Here are some of the sale fabrics. This is just the first post. There are dozens of different combinations, and this post only scratches the surface. We also have bolts of fabric drastically reduced but these would be far too costly to ship.
The in-store sale starts on July 28th and goes through July 30th. This is the very best way to purchase fabrics as you don't have to pay for shipping and the colors are truer in real life. However, when I took these pictures, the colors were pretty accurate. I cannot control how something appears on your computer screen so I cannot accept returns due to color discrepancies. Please try and look at these on a computer screen as opposed to your phone.
All sales are final. These are heavily discounted. It is all high quality fabrics, as the Bungalow is known for. Many of these are selling below wholesale. I won't open packs to more accurately show them. They are sealed.
Each pack has 3 different coordinating fabrics, each of them are 1 yard so they are perfect for 3 yard quilts, or just for adding to your stash.
Here is how this will work.
*****I will not reserve these for pick up. This is for shipping out only. I don't have the room to have individual packets sitting and waiting*****.
If you see something you want, you will email me Here [email protected]
Many of these have duplicates. A few of them are singles, meaning there is only one of the combinations of 3 available.
In your email to me, include your name, your address, your phone number and whether you prefer paypal, venmo or for me to call you for your credit card number. Also include the number of the item and the name. If all of the above information is not present I will move on to the next customer that wants the item, so make sure that all of it is there. I will contact you with my venmo handle or invoice you via paypal, depending on your preference.
Shipping:
All shipping will be done via flat rate containers via USPS.
1-3 combos $10
3-6 combos $15
6-10 combos $20
Here are the first of the combos. I will add more as I get them packaged.
Little Bear 1: Little Bear 1 sells for $18. This is fabric by Clothworks, and Moda.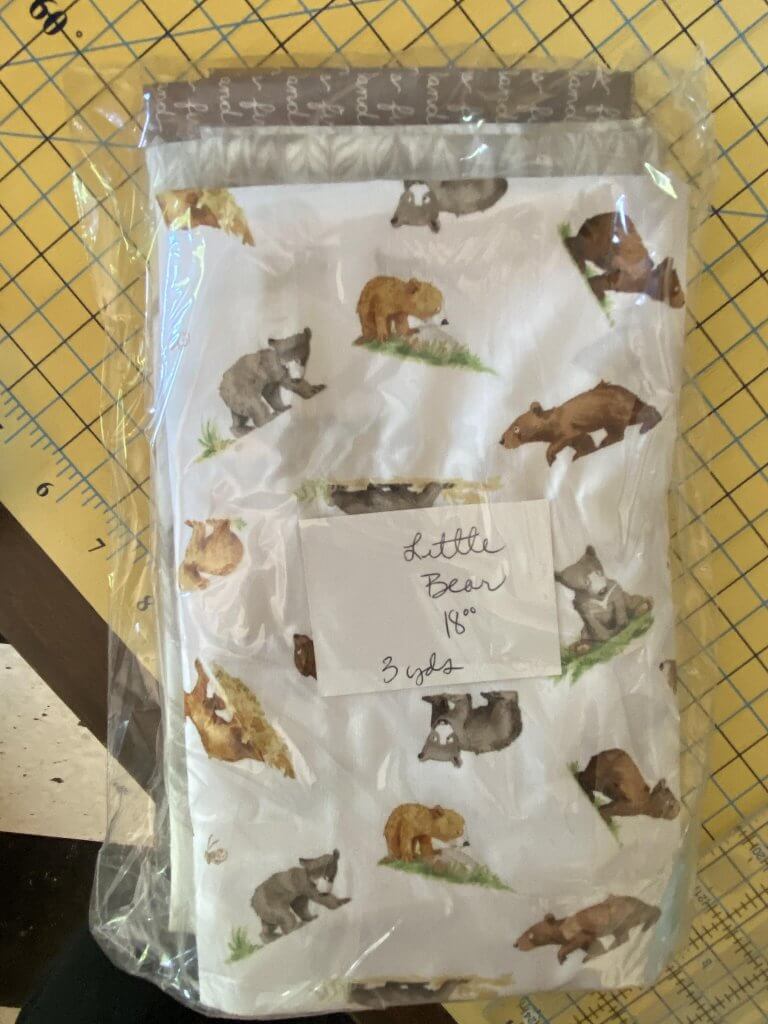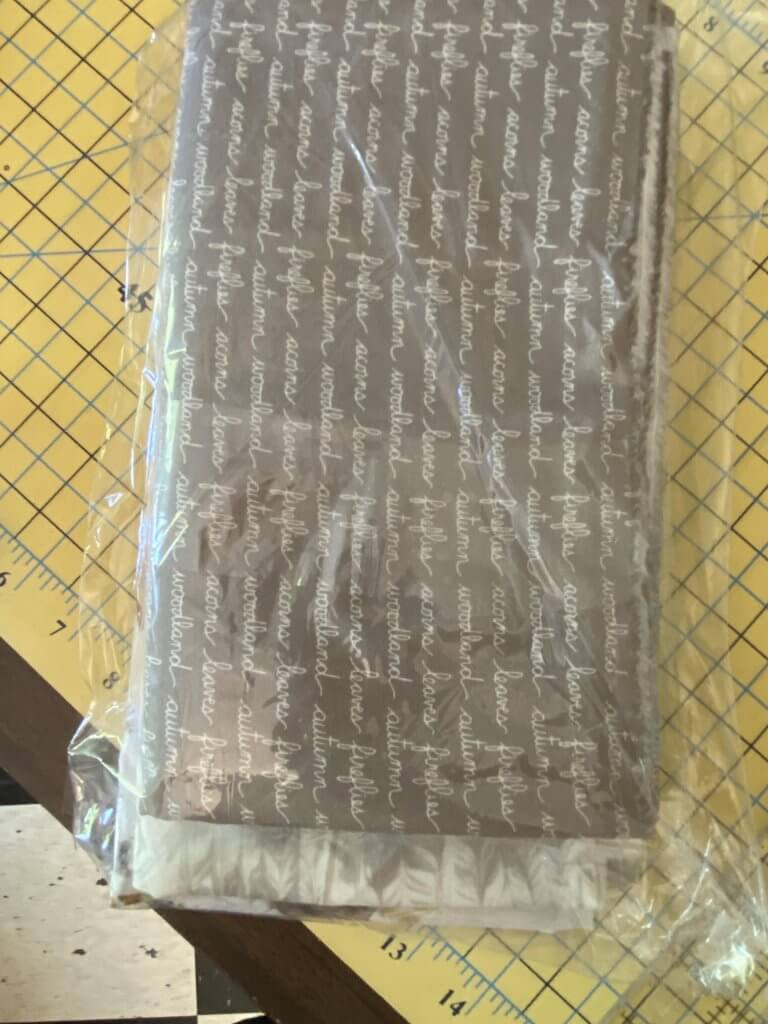 2. Hit the Slopes 1-Hit the slopes 1 sells for $18. It has fabric from Moda and Andover.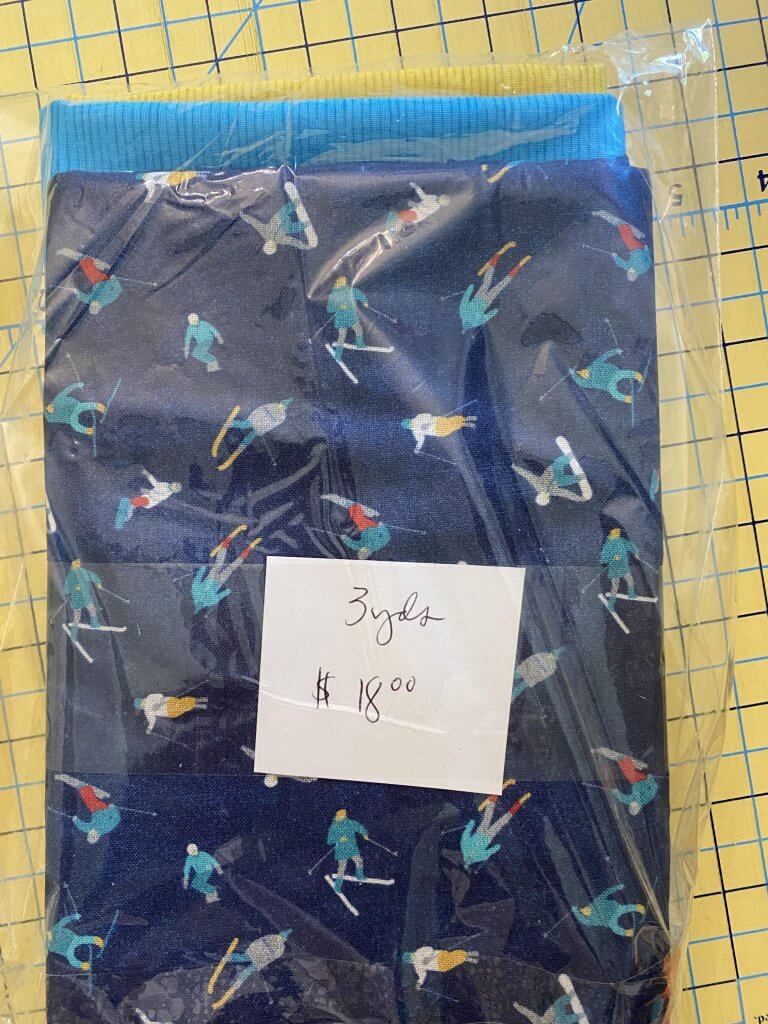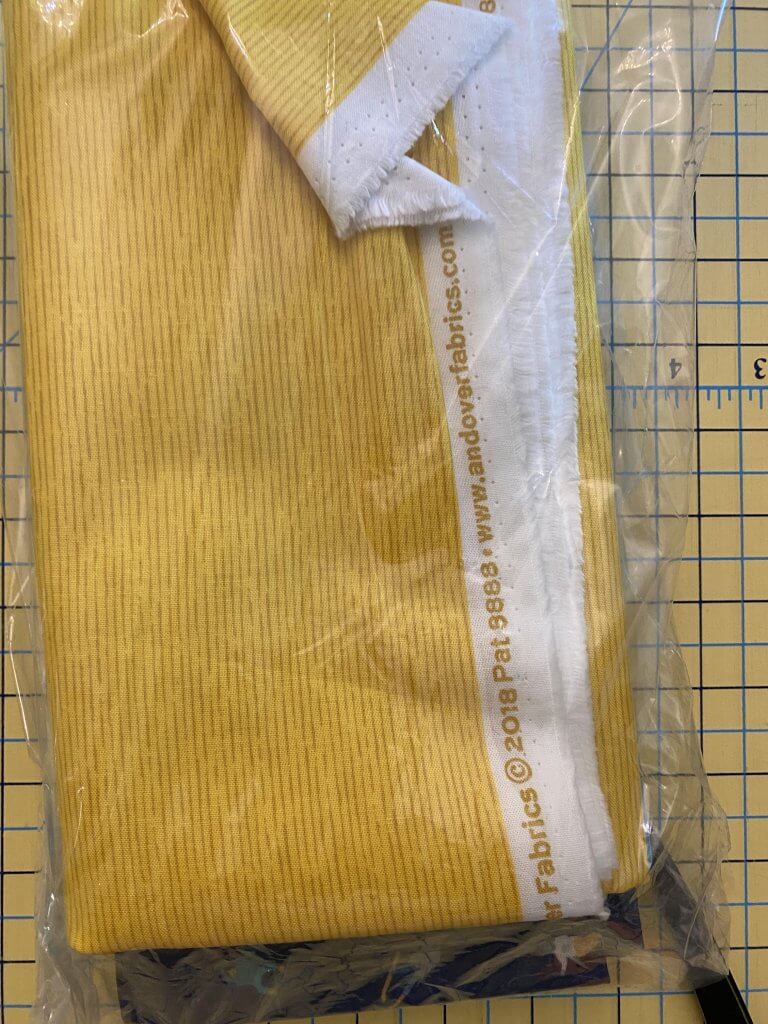 3. Midnight Spell-This sells for $21. It has fabrics from Andover, Art Gallery and I believe this is Henry Glass. There is only one of these.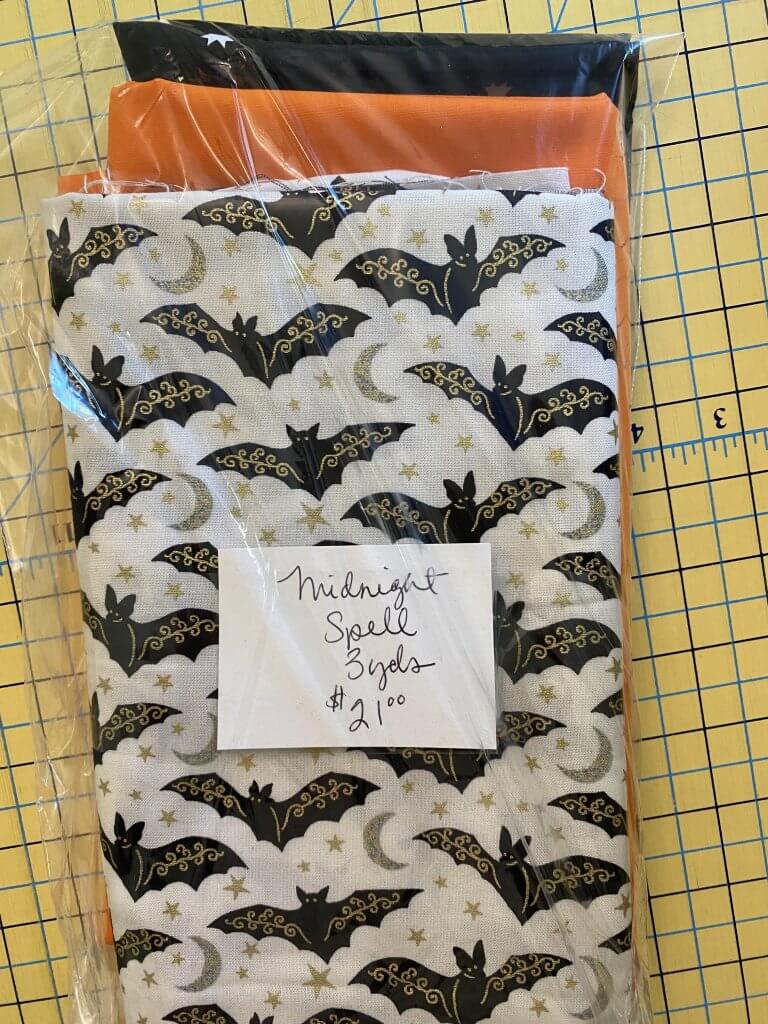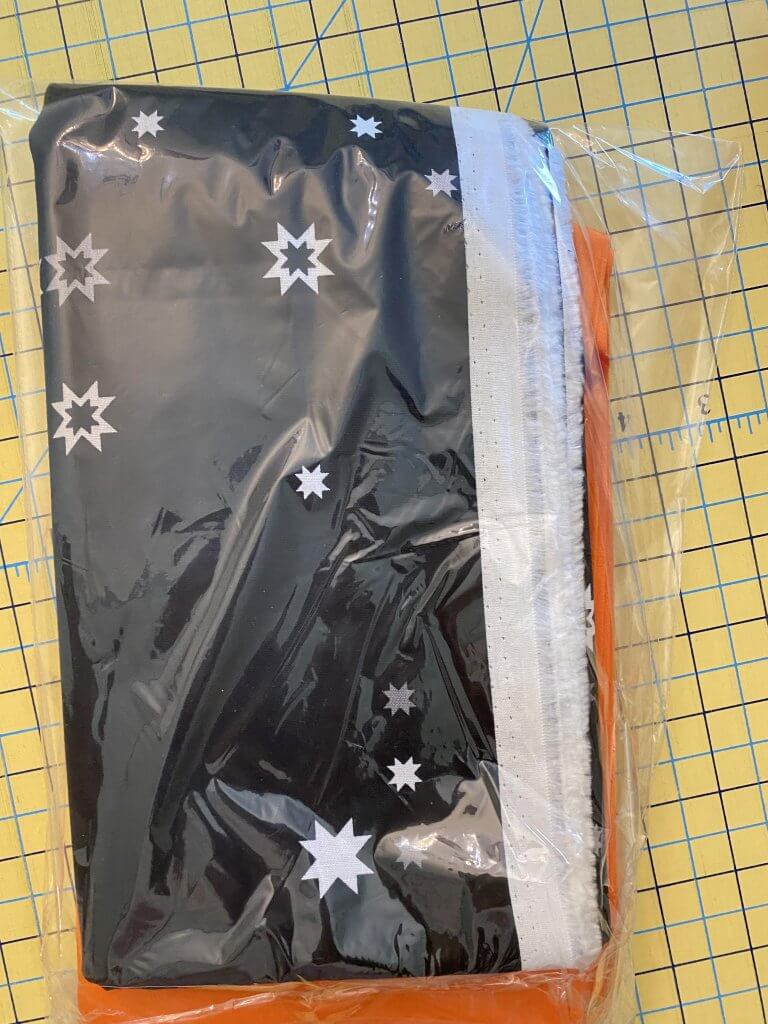 4. Village Bear and Bunny-This sells for $18. There is only one of these so grab it quickly. I will let you know if you get it. The fabric is by Elizabeth Grubaugh for Blend Fabrics, Tiny Crowns and Going Steady I believe are from Cloth works.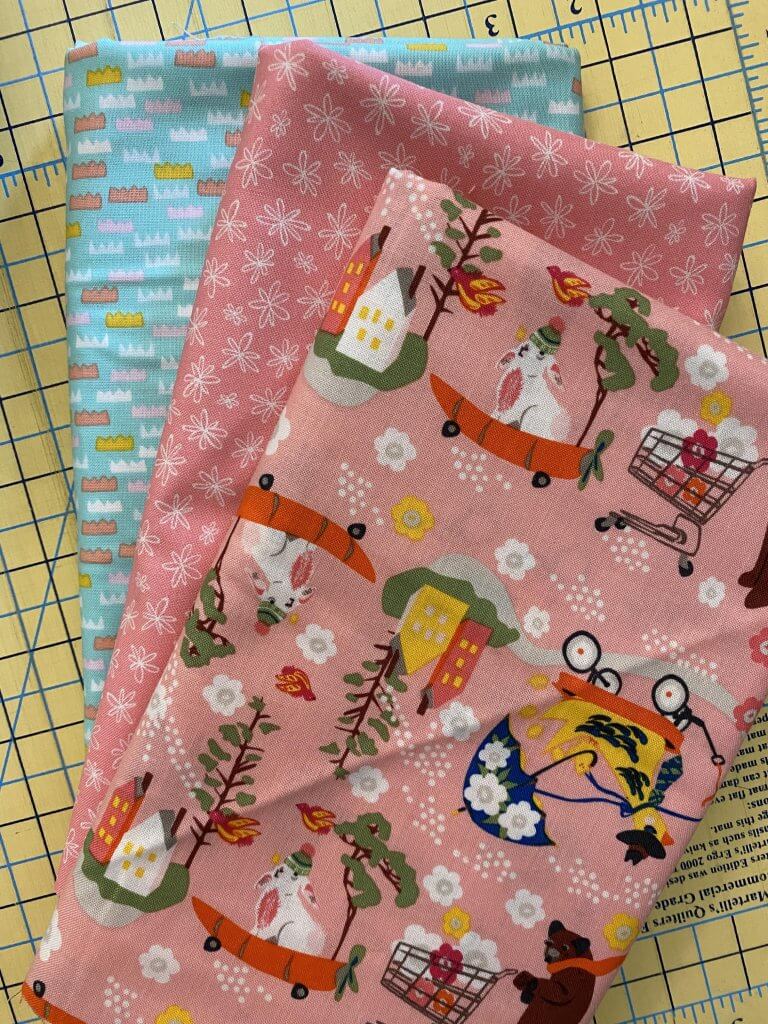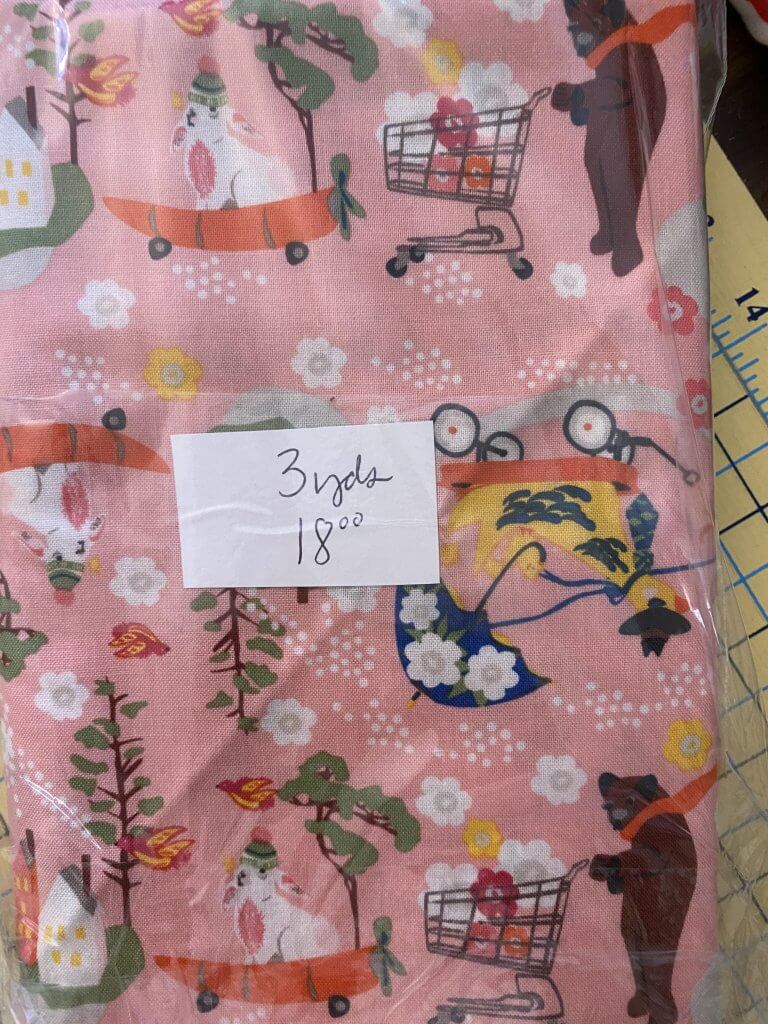 5. Polar Bears in Green-There are multiples of this combination. These polar bears are by Michael Miller Fabrics. The tiny dots are by Paintbrush Studios and the stripe is from Blend Fabrics. It sells for $21.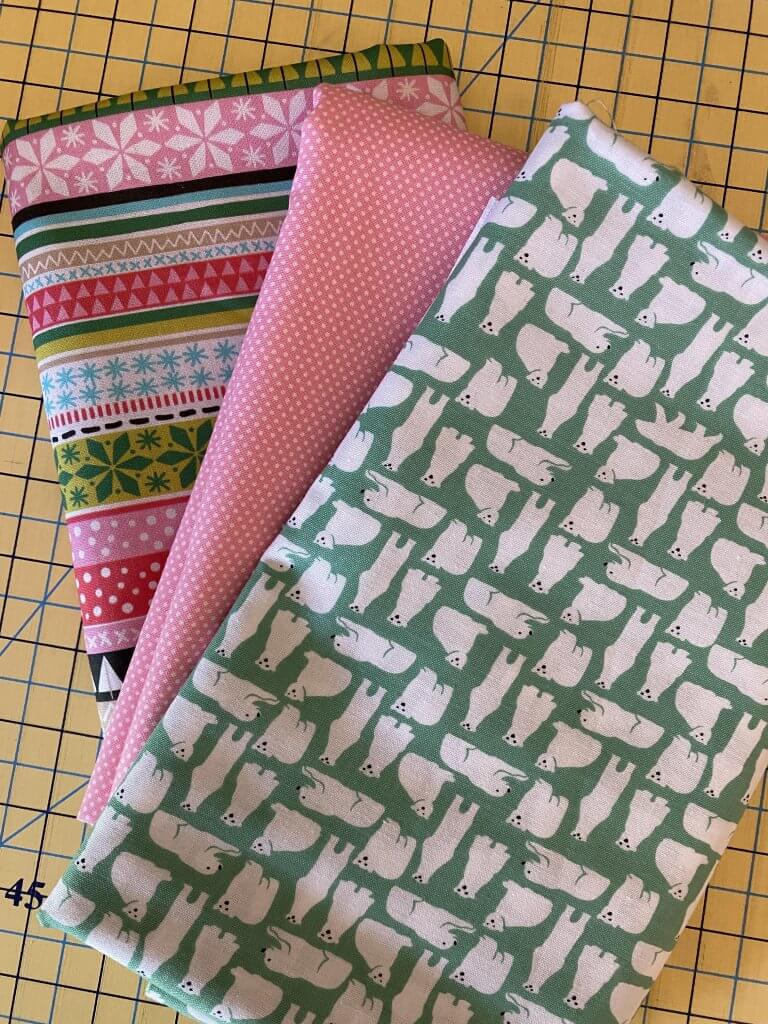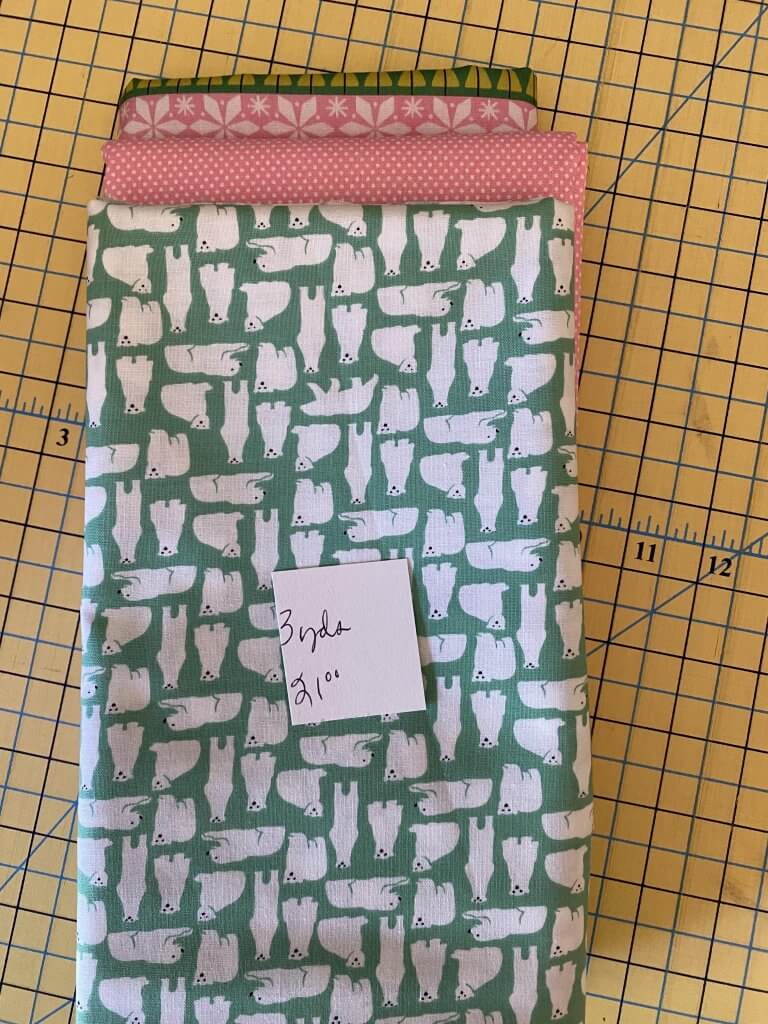 6. Polar Bears in Red-This is exactly the same as the polar bears in green, except the bears are in a red colorway. Sells for $21.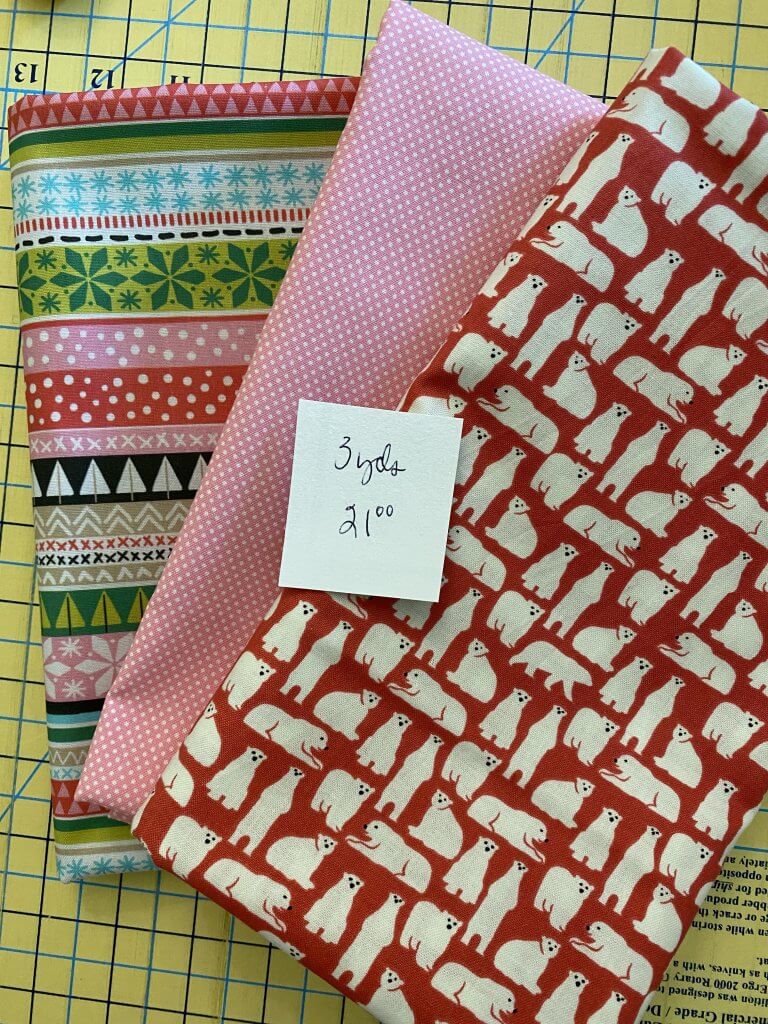 7. Garden Nymphs–This Garden Nymph fabric is by Dear Stella Fabrics. The diamond fabric is from Clothworks as is the Tiny Crown fabric. It sells for $15.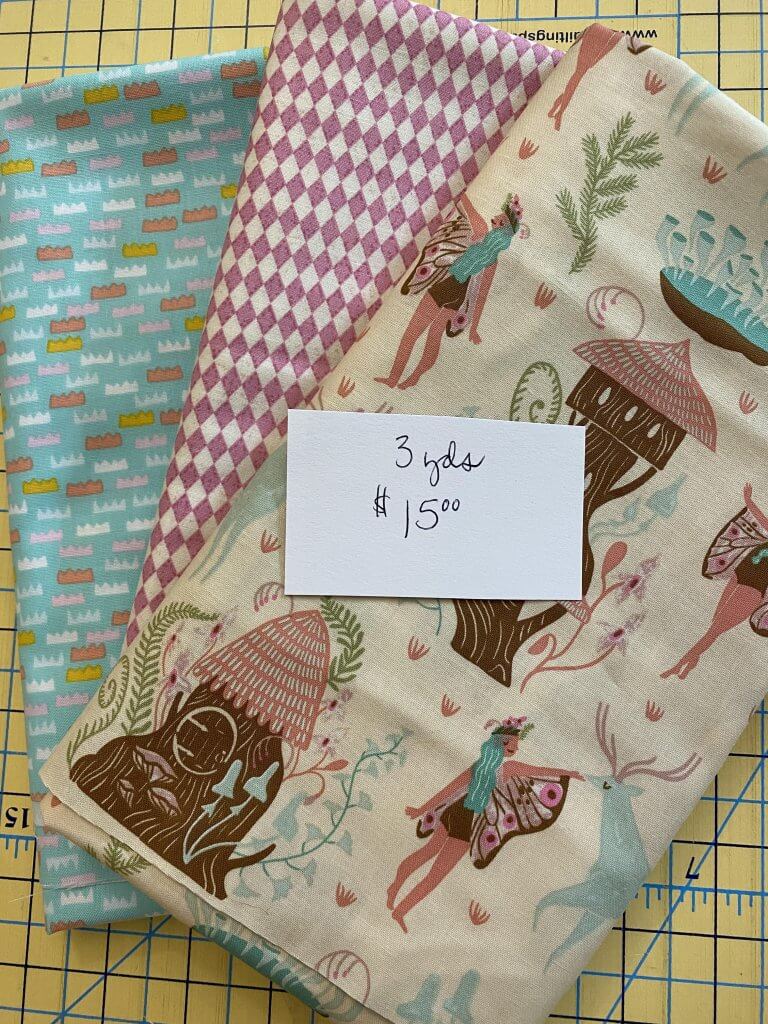 8. Bird Cloches–Bird Cloches sells for $25. There is fabric here from Dear Stella, Cotton and Steel (original Cotton and Steel) and I believe the brown metallic is Paintbox Studios.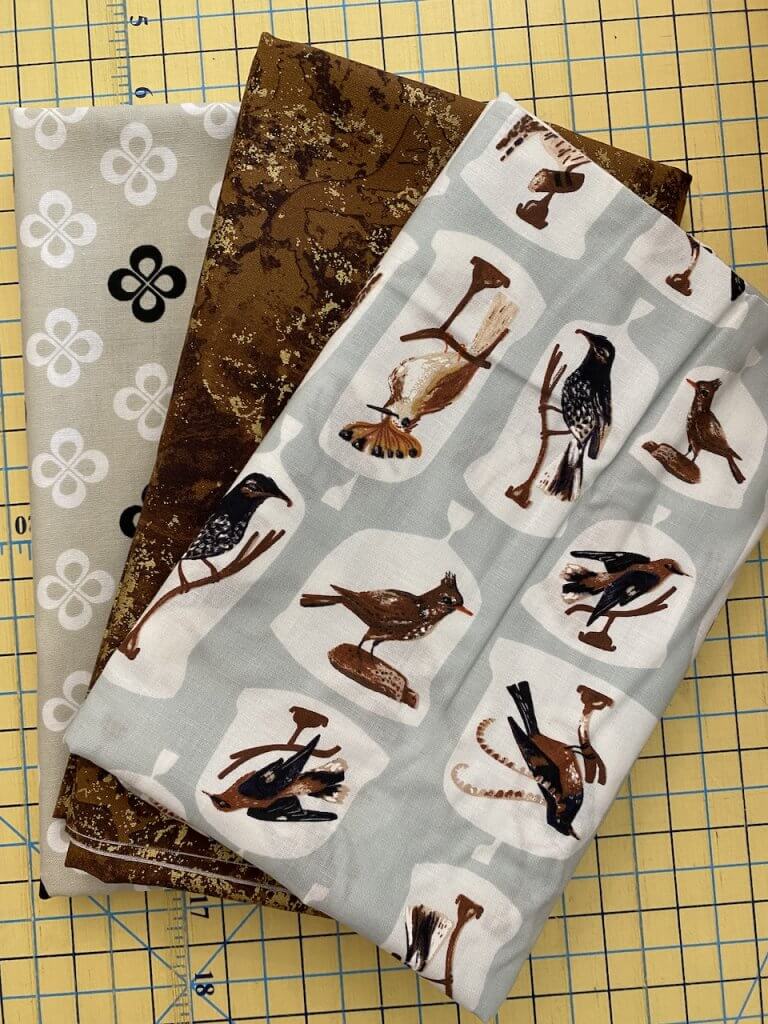 9. Little Bear 2-Little Bear 2 sells for $15. There is fabric from Clothworks, solids from RJR, and Benartex Fabric.
10. Princess II- Sells for $18 and has fabric from Studio e, Benartex, and Studio e. The fabric has swirls on it just like the hair on the princess.
11. Forest Friends-Fabrics from Dear Stella, Moda, and Michael Miller. It's actually Michael Miller Fairy Frost in Coin that provides the dark backdrop for the other fabrics. Sells for $22.
12. Glow in the Dark Cats and Bats! This sells for $21 and really glows in the dark! It has fabric from Henry Glass, Art Gallery solids, and a small dot from Benartex.
13. Here Kitty Kitty-Sells for $18 and has fabric from Paintbrush Studios, Andover, and Timelss Treasures.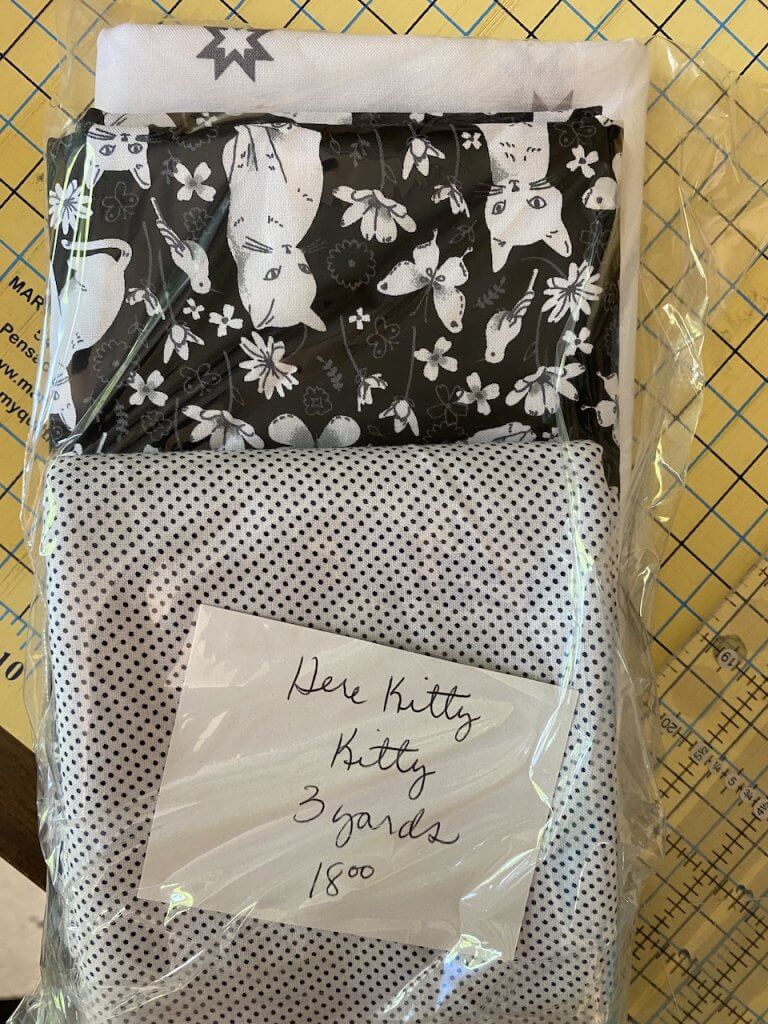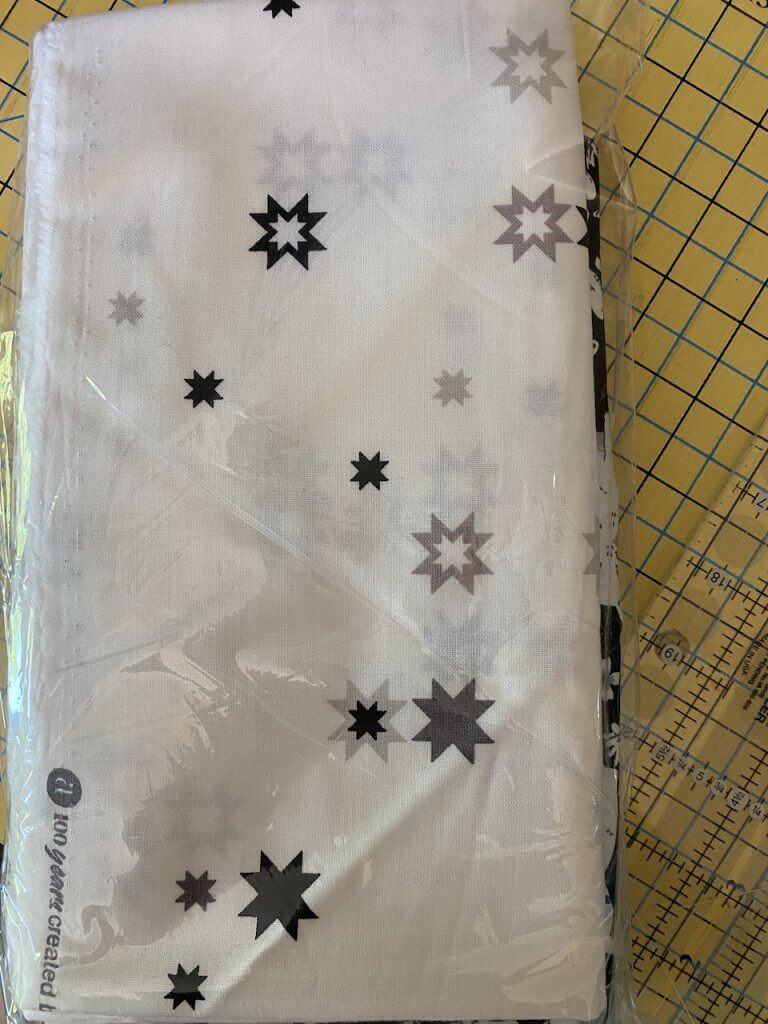 14. Bowtie Kitty-This sells for $18 and has fabric from Michael Miller, Timeless Treasures and solid black from Moda. The bowtie fabric has a small gold metallic bowtie. Sold out
15. Modern Feathers- This 3 yard pack sells for $21 and has fabric from Free Spirit, Studio e, and Andover. The Turquoise Andover is actually fabric designed by Giucy Giuce. This is an incredible deal for this fabric grouping!
16. Shroooms!!! This is a really fun grouping with mushroom fabric by Paintbrush Studios, mini dot fabric from Paintbrush Studios and red and white check fabric from Moda. Fresh and lovely, it would be a perfect picnic blanket using the book 3 Yard Quilts.
17. Hit the Slopes 2- Hit the Slopes 2 sells for $21 and has 2 of the 3 yards from the same line of fabric. One is a dark version, the other is lighter and has snow trails on it. The other fabric is a dot from Moda.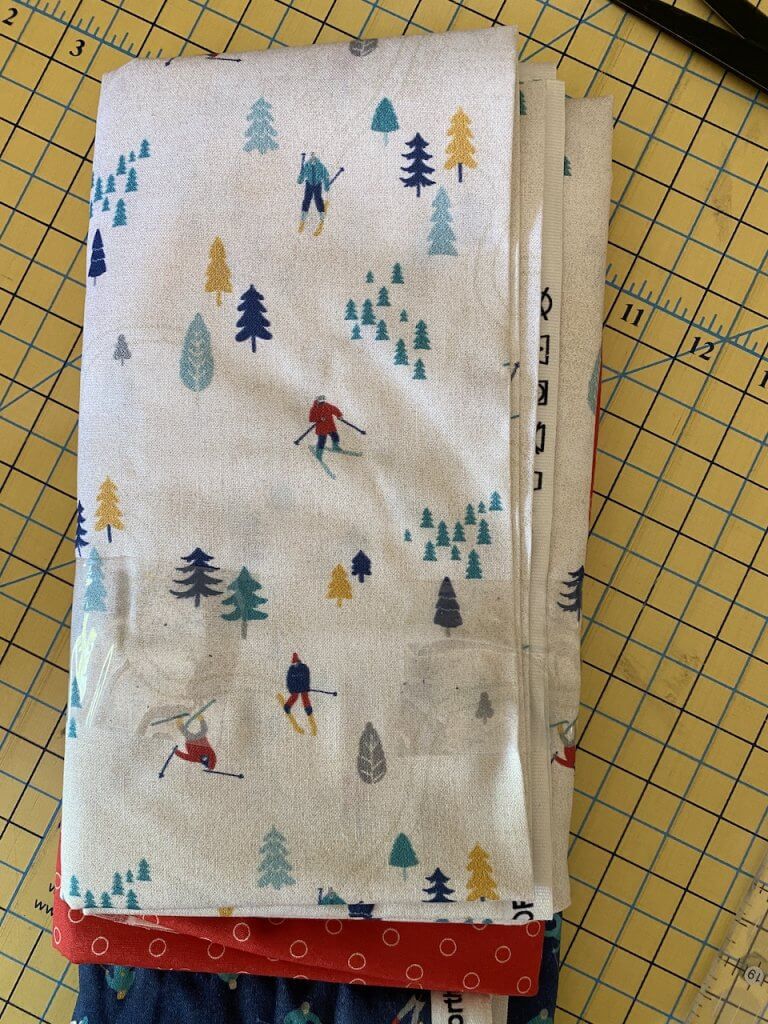 18. Pacific Wanderings-There is only one of these. This is from Moda, RJR solids, and Giucy Giuce for Andover.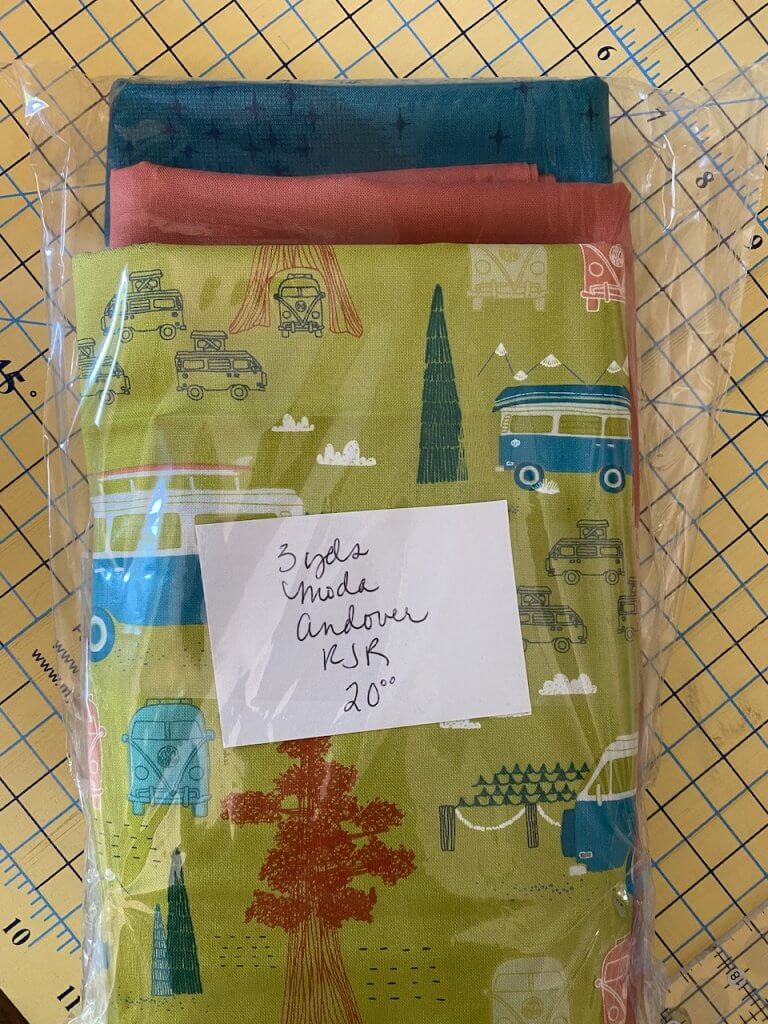 19. Retro Kitty Faces-This fabric is from Moda and RJR. A very fun Halloween grouping with retro Halloween design. It sells for $15. The black is a black on black with cats on it.
20. Dotty Princess Pack-This is Moda fabric from designer Stacy Iest Hsu. It has dots from Paintbrush Studios accompanying it. It sells for $15.
21. Sweet but Wild West-There is only 1 of this combo. This sells for $22. Fabric is from Timeless Treasures, Moda and Paintbox Studios. Sold out
22. Hit the Slopes Signs-These are skiing signs from the Hit the Slopes line. It has mountain fabric from Riley Blake in this pack as well, and a beautiful plaid accompanies it. The plaid is from Michael Miller Fabrics. It sells for $27.
23. Cabin Cozy sells for $24 and has actual Real Tree brand fabric with it.
24. Fishin' in the Dark sells for $21 and has fabric from Studio e, Benartex and Andover.
25. Blend Deer Fabric-There is only one of these. This sells for $17.50 and is a super fun and artsy grouping. There's a little more than 3 yards here.
26. Music of the Night-This sells for $18 and is a fun Halloween grouping. There's Art Gallery and Benartex here.
27. Yucatan-This sells for $24. It has some amazing vintage Cotton and Steel Fabrics here! This is such a fun modern group.
More to follow in a second post. This will get you something to chew on for awhile.