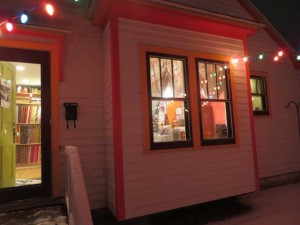 Bungalow Quilting & Yarn is a modern/contemporary quilt shop.  We opened in a small bungalow house in Ripon Wisconsin, at 646 West Fond du Lac Street in 2011 to help provide insight into new trends, accessibility to premium quilting and knitting goods, along with excellent service.  Our goal is to provide the best quality fabric to our customers while keeping prices competitive.  We have regular classes from experts in the field to keep you up to date with the latest trends in quilting, garment sewing, and sewing accessories. It is our belief that quilting shops are better in houses, not in large commercial stores.  This is because these are home arts, arts that make you feel comfortable and secure, and we want to provide that feeling with our shop.
We really do put an emphasis on quality. We carry fabrics from Moda, Michael Miller, Robert Kaufman, Clothworks, P & B Textiles, Timeless treasures, Stof, Art Gallery, Cotton and Steel and more.
We have friendly, knowledgeable, and helpful staff well versed in all aspects of our homey arts ready and willing to answer any of your questions.  It takes something special to be a Bungalow Girl!
Thanks for stopping by our website! We are excited to see you stopping by the shop, but if it is too cold outside or you are a bit far away just check out our storefront at Etsy!
***********Please be sure to call first—Covid has changed our hours due to staff insecurity. ***********I have been called back to the hospital to help during the Fox Valley Covid spike. Please call ahead. It's going to be difficult to be open with any regularity.
Shop Location