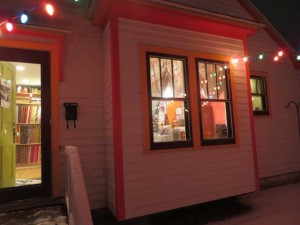 Bungalow Quilting & Yarn is a modern/contemporary quilt shop with a large stock of quality fabric. Founded in Ripon, Wisconsin in 2011 to help provide insight into new trends, accessibility to premium quilting and knitting goods, along with excellent service.  Our goal is to provide the best quality fabric and yarn to our customers while keeping prices competitive.  We have regular classes from experts in the field to keep you up to date with the latest trends in quilting, garment sewing, and sewing accessories. It is our belief that quilting  shops are better in houses, not in large commercial stores.  This is because these are home arts, arts that make you feel comfortable and secure, and we want to provide that feeling with our shop.
During Covid we encourage you to call first as we may not be open. I have been babysitting and my employees are not fully comfortable coming back. Please call first.
On rare occasions we might not be open during business hours due to unpredictable situations. If you stop by and this is the case please contact us via phone or contact form and we will do what we can to help you out.