We are located in Ripon, Wisconsin on Hwy 23, west. Our address is 646 West Fond du Lac Street in Ripon.  We are only 20 minutes from Oshkosh, 20 minutes from Fond du Lac, and an hour and ten minutes from Madison. 
******Closed the week between Christmas and New Years Day******
Closing early June 30th at 2:00 and will be closed July 1st for 4th of July weekend, 2023. 
Come and sew in our back room! Have a one day retreat with your friends. If you can't get away for a long retreat, then create your own sew day! When you sew with your friends in our back room you receive 10% off of your purchases for the day.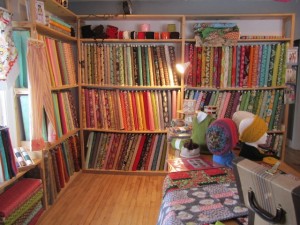 Hello from Bungalow Quilting and Yarn!  Bungalow is a contemporary quilt shop.  We have fabrics available from Moda, Studio e Fabrics, Blank Quilting, Michael Miller, In the Beginning, Clothworks, Westminster Fibers, Free Spirit Fabrics, Ruby Star Society and Art Gallery.  We also have an incredible stock of solids from Kona, RJR, Moda and more. Judy is a fabric designer for Studio e Fabrics. Come and check out her fabric lines. She is also an author for C&T Publishing and has written 6 books. Judy is also a designer for Studio e Fabrics.