My daughter made this quilt. It's a lap quilt. She's a mommy with a little guy, and she finds time to sew. I always tell mothers that this is the best time to sew. You can find time by strategically placing your sewing machine. Where are you most times? Why at the washer and dryer of course. And you're probably cooking dinner and making lunches. So, put your sewing machine right there! It's amazing how much sewing you'll get done if your machine is in a convenient spot.
I had my sewing machine right by my washer and dryer. The kids toys were there too. We were all together in tight little quarters when my kids were little. In the basement, no less! I didn't have a big fancy sewing room then. Some of my best memories are in that little corner in the basement sewing with the warmth of the dryer going and the kids playing.
So where did this pattern come from? She bought it. She had seen it on Pinterest. She ordered it from the pattern designer, most likely E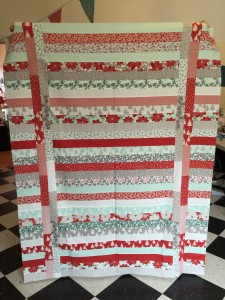 tsy. So, don't copy it. Make sure you give it credit by purchasing it from the actual pattern designer. Keep sewing young moms!