What I love about quilting is the freedom to do what you want. I guess you could say that about any art form. There really are no quilt police, although some people think that there are. Well, there is always going to be someone with a critical eye, but you have to take ownership and love your quilt.
What is old is new again. Right? Well, as I have said before, my mother was the queen of using things up. She could use the most unusual fabrics in the most incredible ways. Modern quilting has embraced using alternative textures. 10 years ago, no one would have though of putting linen in with cotton, but they sure are doing it now.
So, when I was at market this year in Minneapolis, I spied one of my favorite booths. I made my way over to it, thinking that I would purchase some of this fabric for garment sewing. It's a company called "Ruffled Fabric". They started small with a few choices a few years ago. I had purchased some of their fabric at my first ever quilt market. It was when I just opened. I kitted it up for skirts for little girls and it sold well.
Now, they have many more style options and colors. They are even adding it to quilts. So here's what it looks like, and here's what I did with it in my quilt.
I of course used my templates and cut a 5 1/2 inch square out of it to match the squares of cotton. You can't rotary cut this stuff, and you certainly can't strip piece it. I like that about it. It forces you out of the box.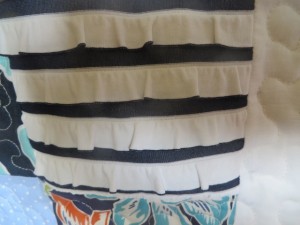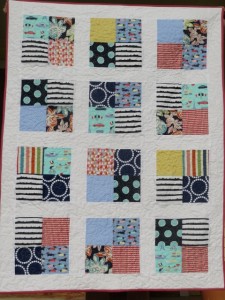 I don't like automatic, strip pieced, done with one line of fabrics kind of quilts. I know that I am not the quilt police, so I should not be saying that. But, isn't this a fun quilt?