So on this project, the wind was taken out of my sails. That's because they didn't fit. I hear a lot of people say that they don't do garment sewing because of the fit. Yes, it's sad but true. It is really hard to fit garments unless they are of a certain design. Kimono jackets, loose fitting blouses–they will fit when you're done with them.
In high school, I sewed all of my clothes. I was the odd one out because I loved high fashion. I would pour through vogue magazine to see what the most current models were wearing in NYC. In high school, you have to fit in. If you're a square peg you don't fit into the round hole. I was the square peg. But, I had a cute little figure with a small waist. I could fit into any pattern after I made it for myself. And make them I did. I made dresses and skirts for myself. Everyone else was wearing jeans and sweaters or jeans and t-shirts. It was the early 1980s. I knew what was in style in the big cities on the east and west coasts. No one else did, and no one else cared.
I sure wish that I had pictures of the clothing that I sewed. My mom and I would go to the big fabric stores that had fabric piled up on tables. It was like a treasure hunt. You could find pieces of wool that were enough for a skirt for a ridiculous price. So much fun!
But now, it's harder to make clothing fit. I still love to do it though. I love to sew clothes. It's worth the effort. You just have to be good at scouting out the right patterns. Perhaps that's why I love to sew for children. It's also why I love to sew pajamas. Pjs don't have to be an exact fit.
I made these pajamas for my grandson and he was still too little for them at Christmas. He's still too little for them but I finished the buttonholes and gave them to my daughter. He'll grow into them. I can't wait to see him running around in these.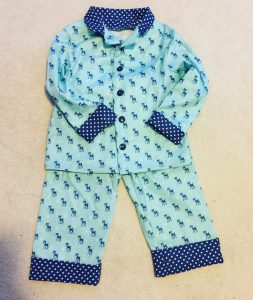 They turned out so cute! What pattern did I use? I used one from the internet that was from an indy designer. I love pdf downloads that you can print out and tape together. It satisfies that craving of needing a pattern in an evening. You can't run to the store but you sure as heck can print one off the internet! My grandson is a peanut. The pajamas should have fit him. They were the right size. The pattern designer assured me that they had fit other 18 month olds. But, they were too big for Freddy. He's kind of little for his age.
We have a pajama clinic this summer. We have a couple people signed up for it, but it would be a great way to get your feet wet in garment sewing. Check it out in our "class" section.