These shorts are just so cute. They totally remind me of the sunsuits from the 50s and 60s. My sister Kathy had such bad allergies that in every home movie we had there she was…running around with a handkerchief pinned to her sunsuit. We all wore these.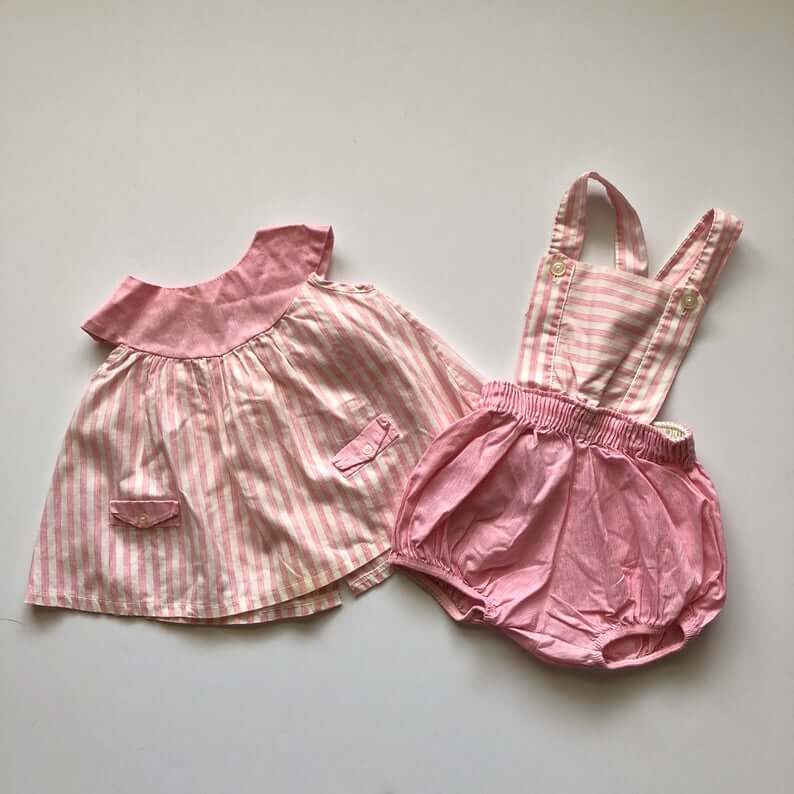 These are classic. I found several bubble shorts patterns online. I downloaded 2 of them. This is the first one I tried. The pattern is a downloadable pdf. It's gotten to the point where I will not do any pattern unless I can download it directly into my computer. The "big 3" pattern companies have some of this capability, but it isn't perfected just yet. Besides, I love to support independent pattern designers. There is one large caveat to that however–they have to know what they're doing. I have been burned, let me tell you. I have downloaded patterns that look cute and then they aren't done well, and they don't fit. It takes more than just the ability to have pattern making softwear to have a product that fits well. You also have to thoroughly understand sewing. If you're 22 years old and have been sewing for 4 years, that is wonderful and the sewing community welcomes you with open arms. But, don't try and sell me a garment pattern unless you have a degree in this type of design and construction. It is horrible to cut up your fabric and have it wasted. It's happened to me too many times.
That's why I am happy to review this pattern, even though I haven't been asked.
I love that it includes many sizes. That is a plus. The shorts are not abnormally large, and are very true to size. Many of the "big 3" pattern companies make patterns that run way too big. The instructions were not needed as I don't typically need to read the directions for most garments anymore. I have been sewing garments since I was 12, and I am now 56. But, they were clear and concise.
I found that I needed 5/8 yard of fabric even though the instructions asked for 1/2 yard. 1/2 yard would not have been enough. I had an allover print, but a one-way definitely would need more.
I love the size chart. It was thorough. She also includes directions for a serger method and a traditional method. I have a serger, so I definitely used it.
I like that you can make the cuffs in coordinating fabric. I used fabric from 2 different manufacturers, 2 different lines. The cuff and the bow were from Adornit fabric, and the shorts were from Moda, by Crystal Manning. The moda fabric is available in my Etsy shop.
I especially like to choose fabrics that are from different manufacturers and different lines when I make quilts or garments. If you look at the photo, the fabrics are not "perfect matches". This ads to the interest–it ads tons more interest! I like when the turquoise is just slightly different, and you introduce another color. It's not important that they match, it's important that they blend.
I will be making a ton more of these!