Time to talk about how we are actually sorting fabric and fabric selection. This applies mostly to scrap quilting, but can be used for any type of quilt you want to make.
I have a little decision tree that I use. This is what it looks like.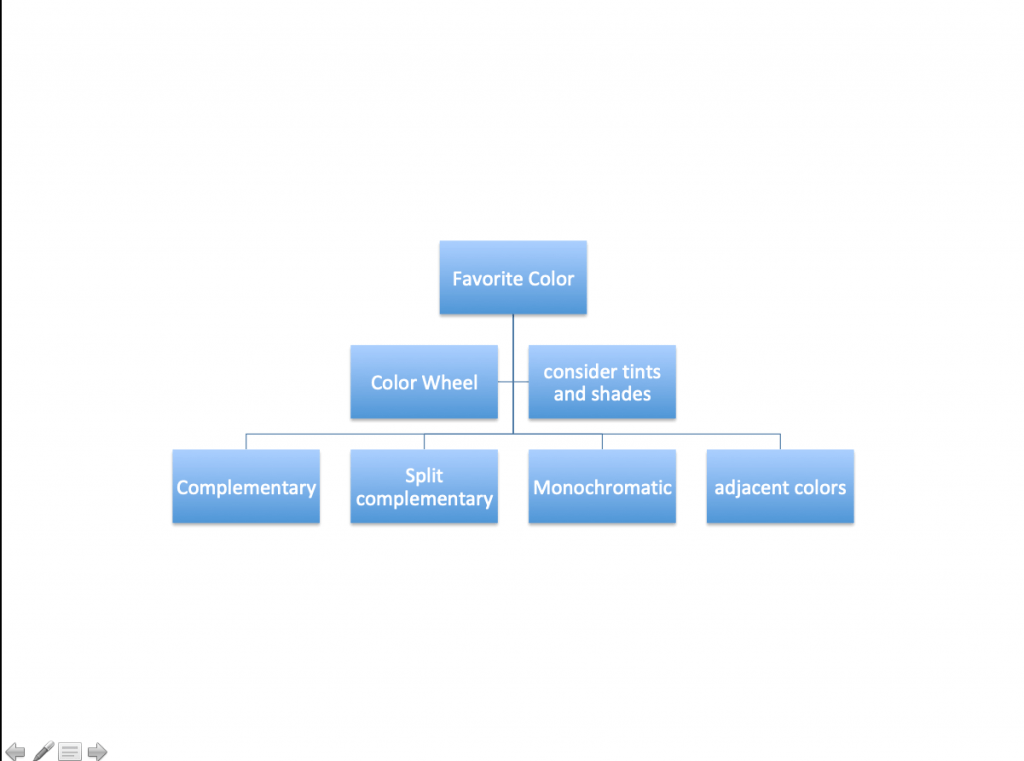 My favorite color is orange, but that doesn't mean that I don't have blue or green moods every once in a while. Our favorite colors change sometimes. I have a ton of scraps in every color, but I definitely have my favorites. Life is short, don't waste time sewing with colors or fabrics that you hate. Limit yourself to doing quilts for others that don't thrill you. Unless you are doing it for a living, stop doing things you don't want to do when it comes to sewing. This is supposed to be art for pleasure. There. That's my soapbox for the day.
If you haven't already done this, separate your scraps into clear bins by color.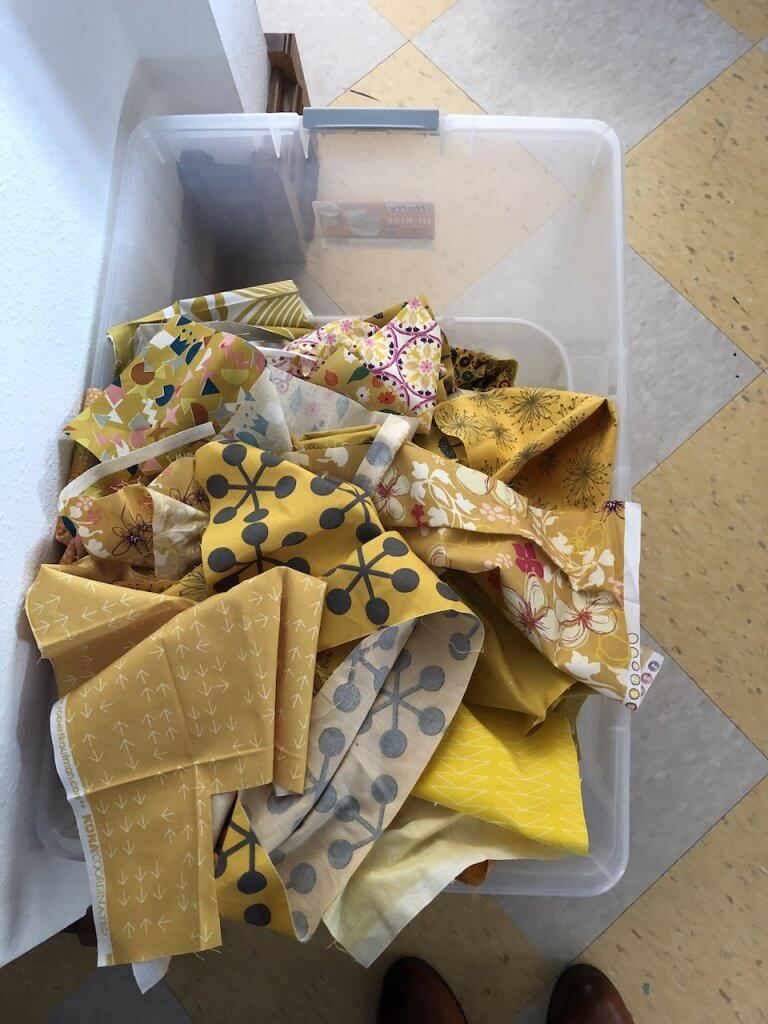 Now, my scraps are not teeny tiny scraps, but they're scraps none the less. There are many authors that write about using tiny little scraps–I am not one of them. But I love scrap quilting. My scraps tend to be left overs from shop samples. They're also from making garments, making umbrellas and more. I often have tiny little scraps left over from my work, but I don't save those. Because I so often use my template set that has a 3 1/2", a 4 1/2" and a 5 1/2" template, my scraps tend to be large enough to accomodate these.
So, back to the colors. The colors that I have bins for are Red, Pink, Orange, Yellow, Green, Blue, Purple, Brown and a separate bin for black and white prints. I don't use very many black and white prints. Not that there's anything wrong with them, I just don't use them. If I do, more often than not, it's a white piece of fabric or a cream piece with a black print on it. I also have a bin that has backgrounds in it. These are white with a small print that is also a neutral, cream with a neutral print and grays. These are in one bin together. (I hope they don't fight!)
I also have a bin full of scraps that are "I don't know what color you are but I love you anyway". Those prints do have a place and a purpose, but they are often so wild that they cannot be categorized. There are actually quite a few applications for these prints found in both of my books.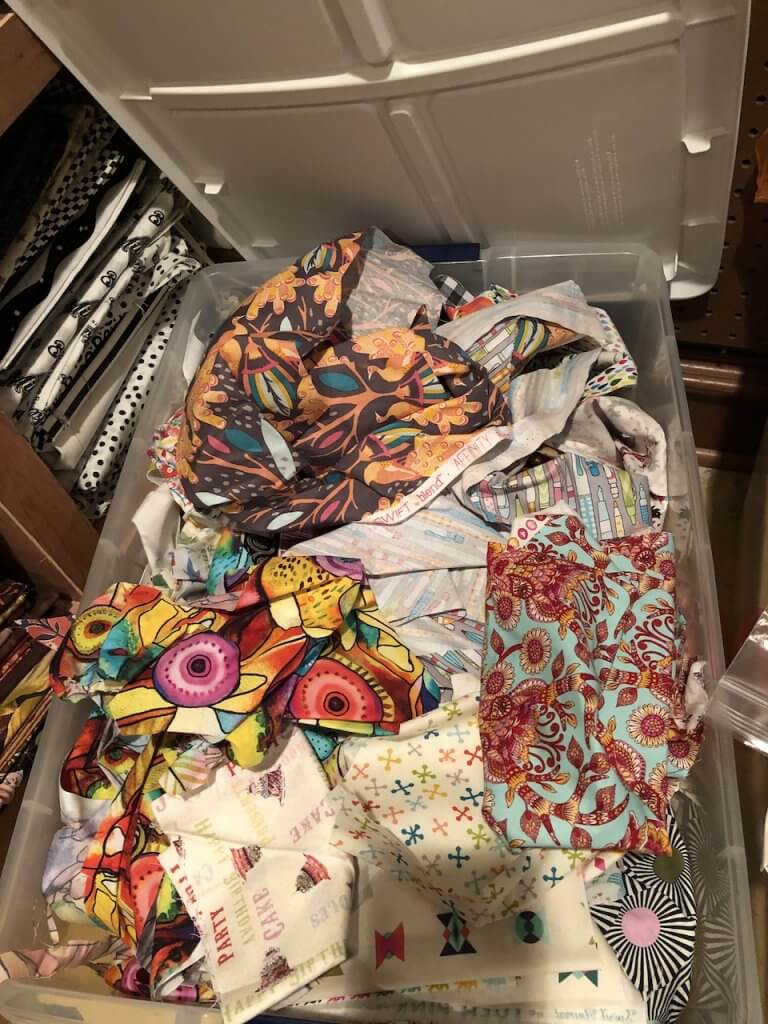 So, here are a few of those goodies.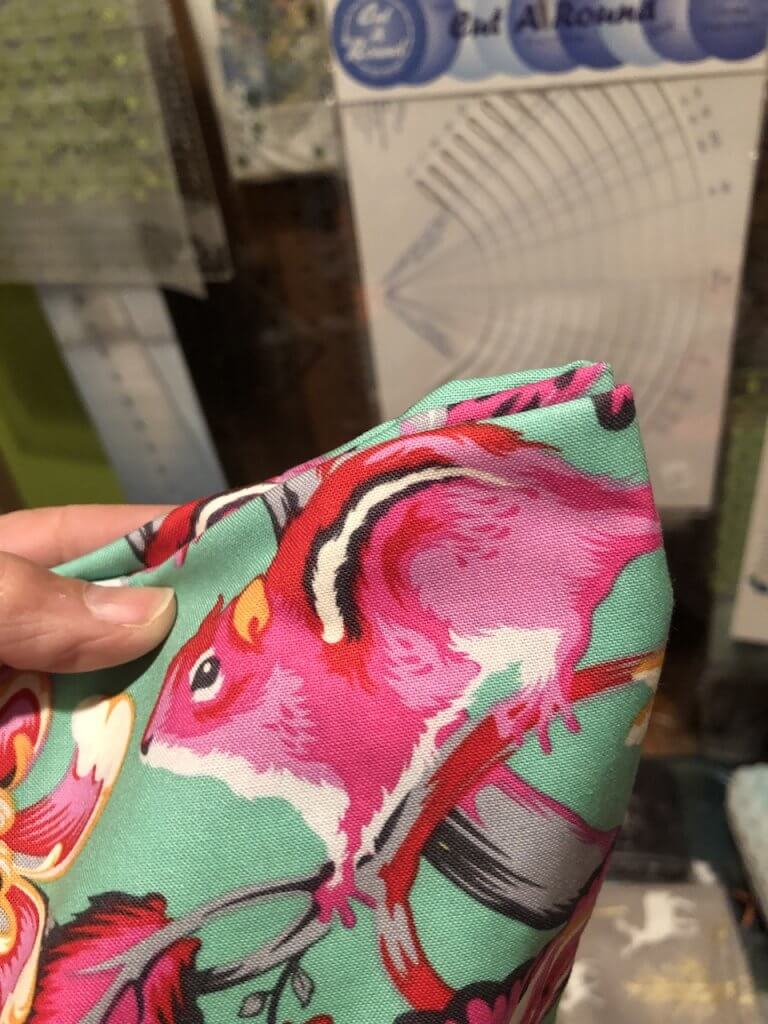 The thing about a print like this is that yes, it could be classified into the green bin, but there's so much other color going on in this one, that it would need to be stratified (more on that term later). It couldn't just easily be placed with a green grouping.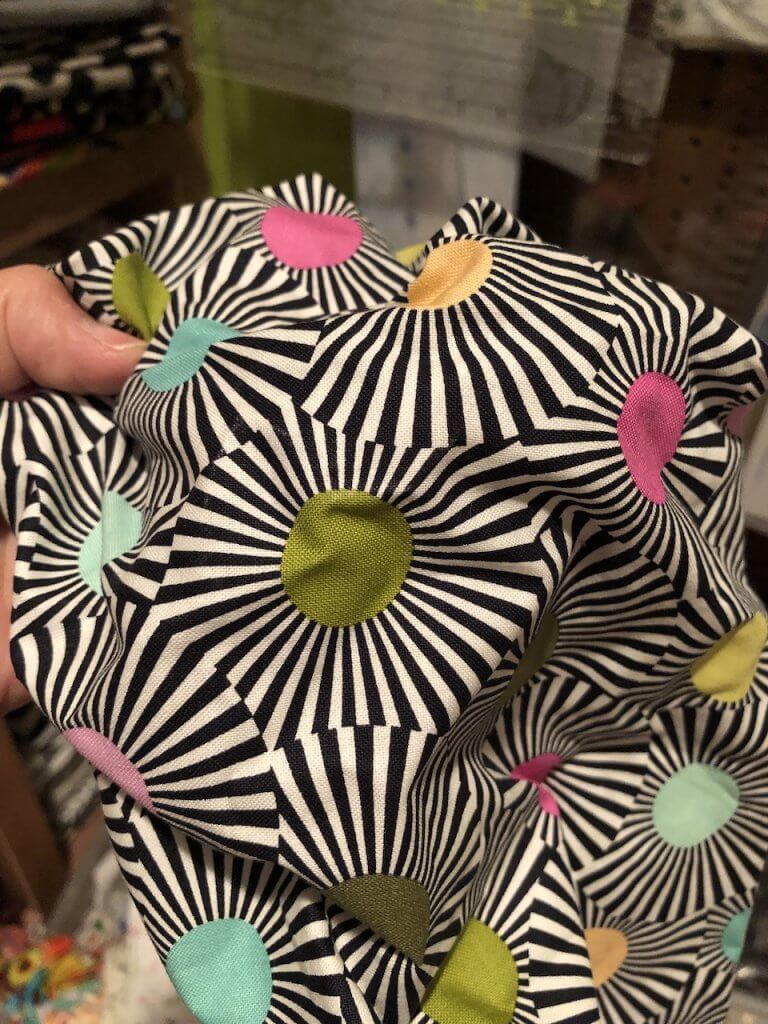 So, here's another one. I love this piece of fabric. This was left over from an umbrella that I made one year for the Free Spirit booth at QuiltMarket. Yes, Tula Pink actually held this umbrella.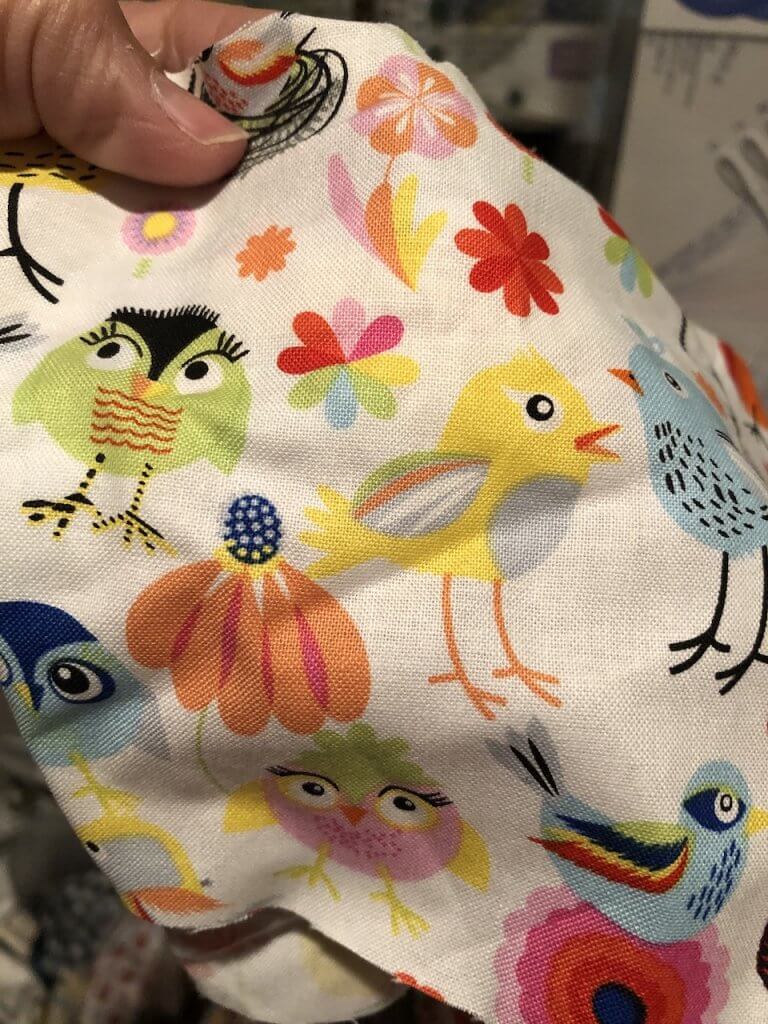 The one above is cute as can be. I know exactly what I would do with it–which quilt I would put it in but it is made a little more difficult for the fact that it has a light background.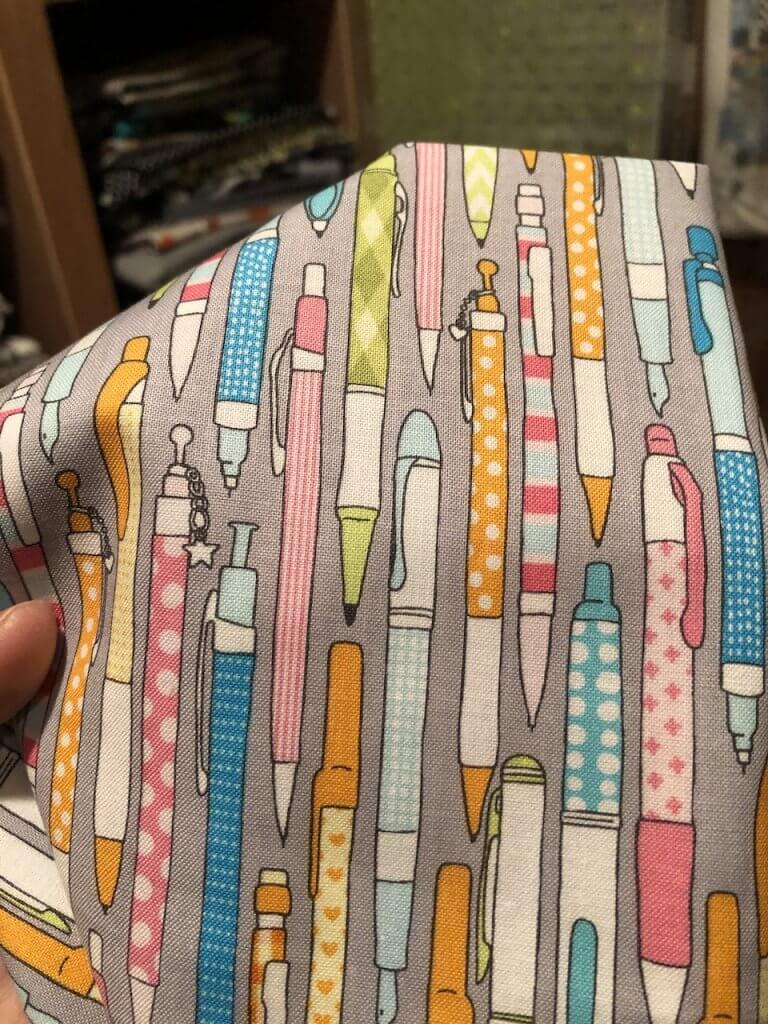 Here's another of my favs. The predominant color is gray but there are too many other colors in large amounts to classify it. But, it does have a place. We shall make it clear later what to do with these hard to place pieces.
Stay tuned!