Well, yesterday was the Summer Solstice. How does a quilter celebrate the Summer Solstice? By sewing something, of course.
While I was away at Spring Market this year, my dog ran across the invisible fence and bit the neighbor. He was a beautiful, graceful, well mannered Standard Poodle. He would come with me to the shop. He was always very polite to all the customers. He never barked and never bit anyone. At the shop. At home it was a slightly different story. He was getting accustomed to the invisible fence, and would, from time to time run across it.
Apparently without our knowledge he had run across it and cornered the neighbor children on their way home from the bus stop. The neighbors were upset, but didn't tell us at the time. We have very nice neighbors with really nice kids.
While I was away, he ran across the fence and bit the neighbor in the leg. We had no choice but to have him put down. If there weren't young, very young, children next door, I would have tried to work on it with him. But, with him leaving the yard and biting, I couldn't take that chance. I was heartbroken, but knew that it was the right thing to do. It was very traumatic to everyone.
So, I am waiting until I retire to get another one, and then it can be by my side 100% of the time. This is the second Standard Poodle that we have had to put down for biting. My heart breaks each time.
So the second dog of the "Dog Days of Summer" blocks is a Standard Poodle in honor of Leroy. Here it is! You can get it free in the shop, or buy it on my Etsy site. It's fun and it's not difficult if you know how to paper piece.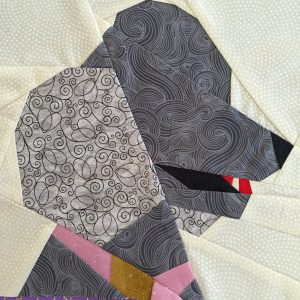 Right after I made it, I had it on the cutting table in the shop. I had put some fabric over it, and then cut the fabric forgetting that it was underneath. So, I had to put it together with tape on the back so that I could photograph it. I'm off to make a second one!