This little buggers can be tricky. They're so much fun to make, and everyone would love one…everyone! There are so many occasions in which to wear one. How about at the lake? At the zoo? At a picnic? Or, especially this…walking in the woods to keep creepy crawlies out of your hair! These Bucket hats are loads of fun.
Come to the Bungalow and learn how to make one. There are a few tricks, and that's why you need this class.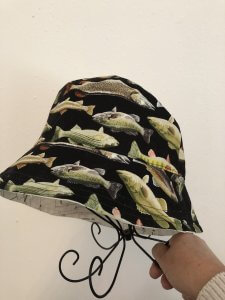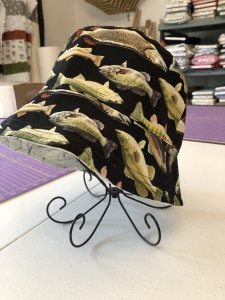 This hat can be made in multiple sizes too. Have a big melon? No worries. Want it for a child? No worries there either. We have a child size pattern too.
This is just in time for Father's Day!
What: Bucket Hat Class
Where: Bungalow Quilting and Yarn
When: Thursday, June 13th at 12:30 p.m.
How much: Pattern $2, class is $25 (pattern is free online, but if you want it printed here at the Bungalow we will charge $2 for the paper and the printing). $10 surcharge for fabric not purchased at the Bungalow at the time of class. 
Call 920-517-1910 or 920-748-2905 to sign up, or email us through this website. CC# needed at the sign up for class or pay in person at the shop. 50% refund will be given for no shows or for cancellations.
Supply List:
1/2 yard main fabric, 1/2 yard lining fabric
Thread to match
basic sewing supplies–seam ripper, pins, scissors
Sewing Machine in GOOD working order
We're going to have sew much Fun!!!!