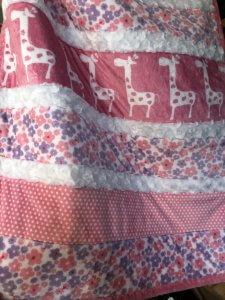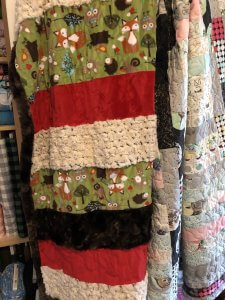 Fear no more! Take a class on this Cuddle Strip Quilt from Judy Gauthier, brand ambassador for Shannon Fabrics. Learn how to piece with this fabric with ease. Make either a baby size quilt or lap size quilt.
When: May 20th 6:30-9:30 and also offered May 21st, Tuesday, 12:30-3:30
Cost: $25 paid upon sign up. 50% of class will be refunded for no shows or for cancelation. 
Where: 646 W. Fond du Lac Street, Bungalow Quilting and Yarn
Supply List: 
sewing machine in excellent working condition
gray thread
walking foot for sewing machine
Batting for size of quilt (baby or throw) can be purchased at the Bungalow on night or day of class
Shannon Cuddle (must be purchased at Bungalow–will not use substandard plush fabrics). Students will receive a 10% discount on Cuddle fabric. Can be purchased at the time of class or before.
Pins and basic sewing supplies (long quilting pins needed)
rotary cutter
Strips can be cut at the Bungalow so you will have no mess in your sewing room or house!