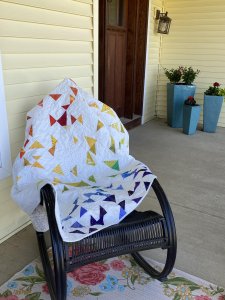 Join me for an improv workshop with color theory to make this fun modern quilt called Caution: Falling Rainbows. This is improv and everyone's quilt will look different!!! How fun is that? Sign up by emailing [email protected] or calling 920-517-1910
Where: TBD–either Bungalow Quilting or nearby location
When: Friday July 15th 9:00 a.m. to 3:00 p.m.
Cost: $50
Supplies:
General sewing supplies such as scissors, rotary cutter, pins, mat, seam ripper, white thread or your fav neutral color.
Sewing machine in good working order that has been used in the last month and recently cleaned and oiled
Scraps that are a minimum of 3 1/2" square of pink, red, orange, yellow, green, blue and purple that is blue not red/purple. Important: the scraps should be of any sort of print but the color is determined by the predominant background color. Don't split hairs as to whether or green is a blue green or yellow green, just bring a variety of green. This goes for orange, yellow and all of the other colors that lean one way or the other. Bring enough scraps to make several rows of each color.
4 1/2 yards of Solid White Kona or Moda or Kona Snow or Moda Off White.
SCRAPS OR FAT QUARTERS IF YOU CHOOSE TO BRING THOSE MUST BE QUILT SHOP QUALITY AND NOT FROM BIG BOX STORES.
May bring your own lunch or lunch out if you choose.
You will need a 3 1/2", 4 1/2" and 5 1/2" template or you can cut them with your ruler.
I reserve the right to cancel class for less than 3 participants. There will be no refunds unless I cancel and gift cards may not be used to pay for class. Must be over the age of 15 and know how to use a sewing machine and rotary cutter.