Have you ever wanted to learn to sew garments? This is the perfect class to dip your toe into garment sewing. This is an all-day class. You will learn how to lay out a pattern and how to sew with knits. These pjs are a good beginner project. They're soft and fun and can be embellished in so many ways. You will want to make a whole bunch of these.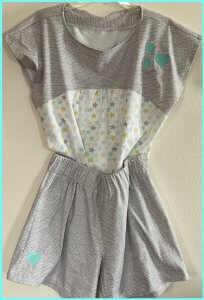 When: Saturday, April 4th 9:00-4:00
What: Pajama Class
Supplies needed: Knit fabric for pajamas according to size, Pins, scissors, pajama pattern, sewing machine with universal needle, elastic for waist band, pajama pattern. Need to bring basic sewing supplies such as seam ripper and thread to match the fabric color.
Cost: $35 for class. If fabric not purchased at Bungalow, class will cost $50.
A note about sewing machine: Please bring a sewing machine that has been recently cleaned and adjusted. Also, make certain that you personally have sewn on this machine prior to the class within the last couple of months.
Class will be limited to 3 participants so sign up quickly. There will be no refunds on class once you are scheduled. Pattern will be available from the Bungalow.
To sign up: email [email protected] or call 920-517-1910 or 920-748-2905 or come in to the Bungalow and sign up.