Brand new to Dickens of a Christmas this year is our Quilted Lantern Show. I have always wanted to do this, but I had wanted to do it with Pumpkins for Halloween. I have always wanted to do a Jack-o-Lantern Extravaganza where quilters carve their favorite quilt block into a pumpkin and fill our back yard at the Bungalow. But, becauase I am always at Quilt Market and Festival for Halloween, I haven't been able to do it. So, I am doing it for Dicken's of a Christmas instead. The back yard of the Bungalow will be filled with lanterns with quilt blocks and light glowing through them. They will be hung from the trees and hung from hooks in the back yard for a glorious show of lights!
Here's how this will work.
Come into the Bungalow and pick up a lantern. We have a limited number so hurry! If we get a huge response, I amy have to purchase more of them. It's first come, first served. So you must come into the shop and pick one up. THESE WILL NOT BE SHIPPED. THIS IS IN STORE ONLY.
If you take one you must bring it back finished or you will be billed for it. Therefore, there is a $15 deposit. 
The lantern is then the property of the Bungalow once it is finished so that we can do this again next year, and display it again, with even more lanterns until we have dozens!!
****Lanterns may vary depending on quantity available for ordering********
When: Dickens of a Christmas is the first full weekend of December every year. This year it is December 1-3. We will display them lighted up on Friday night December 1 from 6-7:30 and December 2nd from 5-7.
Pick up Lantern: You can pick up your lantern anytime after October 15th. You must come in to the Bungalow to pick it up.
Return Finished Lantern: Lantern must be returned by November 24th.
How to:  Create a quilt block or create a cut out of your favorite block from fabric. Adhere to the glass on the inside of the lantern using mod-podge or clear glue. Lantern will be illuminated from the inside using non flammable tea light. Lantern must have 4 quilt blocks one for each pane of glass.
Must use fabric and sew a block or make one that is a cut out as shown below.
All 4 sides of the lantern must be finished.
May not do this with paper.
Must be a quilting theme or sewing theme.
Neatness counts!
We reserve the right to jury this exhibit. Any lantern of quality less than what we deem acceptable won't be hung.
Here is a schematic of the possibility for what they should look like: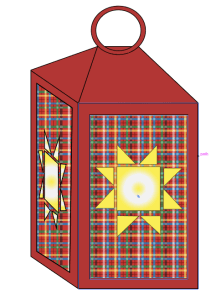 Here is a sample of the blank lantern that you will receive. If we run out of these we may substitute something similar, depending on demand.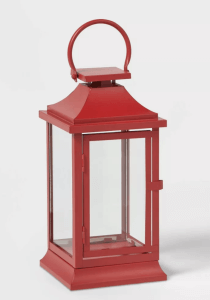 This promises to be a fun event. Please consider participating!