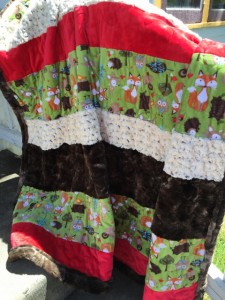 In this class we will be watching a video regarding tips for sewing with Minky, at the beginning of the class. This class requires intermediate sewing skills. We will be making a minky quilt that is a throw size, or you can size it down to be a baby quilt. This fabric and this quilt are very popular. Cost of the class is $25.00 not including materials.
Must bring a walking foot for your machine. Make certain that the walking foot is the correct foot for you machine before class. You don't want to get to class and find that the foot is not a true walking foot, so have this checked out before hand if you are unsure.
Bring basic sewing supplies for this class such as pins, thread, seam ripper etc.
September 26th
Class starts at 11:00 and will run into the afternoon, so plan a lunch. Class will most likely last until 4:00 p.m.