New from Bunglaow Quilting and Yarn …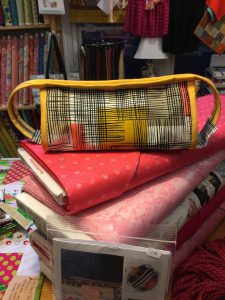 Let's Make A Sew Together Bag!
Monday, January 30, 10:30 – 4:30
Saturday, February 4, 10:30 – 4:30
Monday, March 6 10:30 – 4:30
Pick one that works for you. Additional dates will be added as needed.
This great little zipper pouch holds everything you need for sewing (and more!) The bag includes three interior zipped sections and its large exterior zipper forms the bag handles on each side. The outside is a perfect canvas for all kinds of decoration and embellishment or you can keep it simple for your first one.
Class pre-requisites:
Intermediate sewing skills. (We have other classes if you are a beginner.)
Advanced knowledge of how to use a sewing machine
Know how to sew a 1/4" seam and use a rotary cutter
Experience installing a basic zipper or not be afraid of learning how to do so.
Class fee is $40 payable to your instructor. Sorry, gift cards cannot be used to pay the class fee.
You will also need to purchase the pattern (available in the shop for $12.50) and provide the materials for your specific bag. We carry everything you need to make your very own bag and can't wait to see what you put together!
Please bring your own sewing machine. It needs to be in good working order and recently cleaned and oiled.* You should bring your own basic sewing supplies with you and a lunch or snack. Clover clips are super handy with this project!
Class limited to 5 people. Additional information will be sent to you upon registration.
Register on Facebook (look for our event) or call/stop by the shop. Be sure to leave an email address or phone number.
*We have a limited number of machines in the shop that can be reserved on a first come basis.
Bungalow Quilting and Yarn
646 W Fond du Lac St, Ripon, WI
920-748-2905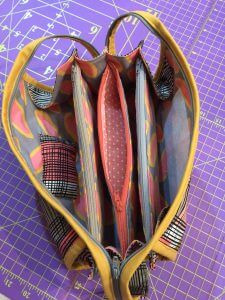 Pre-Class Activity List
Sew Together Bag – Pre-Class list and instructions
We are excited to have you join us to create your own Sew Together Bag. If you are like us, you will be hooked on this fun project and this will be the first of many you create.
This bag will take several hours to complete. It will help the class process go smoother if you come to class with your pieces cut and fused. We highly recommend you produce your first bag with a simple exterior. Once you have a first-hand sense of how the bag goes together and functions, you will be able to design and embellish the exterior of future Sew Together bags as you wish.
Materials:
Exterior fabric: 1 fat quarter (18" x 22")
Lining fabric: ½ yd x WOF (width of fabric)
Pocket lining: 1/3 yd x WOF
Binding fabric: 1 fat quarter
½ yd fusible lightweight interfacing
1 18" x 22" piece of fusible fleece for the outside piece
1 – 18" (or longer) zipper**
3 – 9" zippers**
Optional pincushion – fabric scrap 4" x 6", plus wool roving or similar stuffing
Optional needle landing – wool felt scrap 3" x 4"
** The polyester/plastic teeth zippers we carry at Bungalow are perfect for this project. Metal zippers are not appropriate for this project.
Cutting Directions (Class pre-prep)
From Exterior fabric

Cut exterior – 13-1/2" x 9-3/4"
Tip: for directional fabric, cut 2 panels 7" x 9-3/4" and seam along the 9-3/4" edge.
Bring the rest of your exterior fabric to class to cut the side panels from a pattern piece.
From Lining fabric

Cut 4 pieces 8-3/4" x 9-3/4"
Bring the rest of your lining fabric to class to cut the side panels from a pattern piece.

From pocket lining fabric

Cut 6 rectangles 4" x 9-3/4"

From Binding fabric

Cut 2 strips 2-1/4" x 15" for side bindings
Cut 2 strips 2-1/4" x 20" for exterior zipper binding
Cut 2 strips 1-3/4" x 6" for zipper tabs

From fusible interfacing

Cut exterior – 13-1/2" x 9-3/4"
Cut 4 pieces 8-3/4" x 9-3/4"
Bring the rest to class to cut 2 side panels using the pattern piece noted earlier.
For planning purposes, the side exterior pieces are cut on a fold and need pieces that are approximately 4"x 15" (2 exterior, 2 lining, 2 fusible fleece.)
Packing list for the class:
Recently cleaned and oiled sewing machine.

Handy feet to bring for this project: Zipper foot, walking foot

Sewing supplies

Scissors and/or Rotary cutter
Pins and/or clover clips
Thread to match/coordinate with your fabric
Seam ripper (just in case…)

Your cut and fused pieces of Sew Together Bag as listed above.
Your own lunch or snack and beverage. There is a microwave available in the shop.