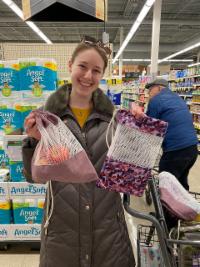 Come and make these fab veggie bags.
When:March 28th 1:00 p.m.
Where: Bungalow Quilting and Yarn
Supplies: We have the supplies at the Bungalow. No pattern needed. Bring basic sewing supplies and a working sewing machine that has been recently cleaned and recently used.
Cost: $20, supplies not included in cost of class. You can purchase your print fabric on the day of class. If fabric not purchased at Bungalow on day of class cost of class is $30.
Class is not for children under the age of 15.