Valentine's Day is supposed to be fun. Too often I just let it go by without taking time to experience the fun of it. Remember the Valentine's mailboxes we had as kids? They were all home made, and so pretty. It was a great effort to try and foster creativity at a really young age.
Back when I was little, my mailbox was decorated with tissue paper and doily hearts. It was pretty much the same from year to year. I loved it. So this year, I am attempting to bring some of the fun back.
My husband never ever steps foot into our dining room. It's off of the beaten path, so he has no reason to go there. I love it of course, and use it for my knitting gatherings and other gatherings of friends.
I decided that I would do a Valentine's tablescape this year, just for me and him. I started with napkins.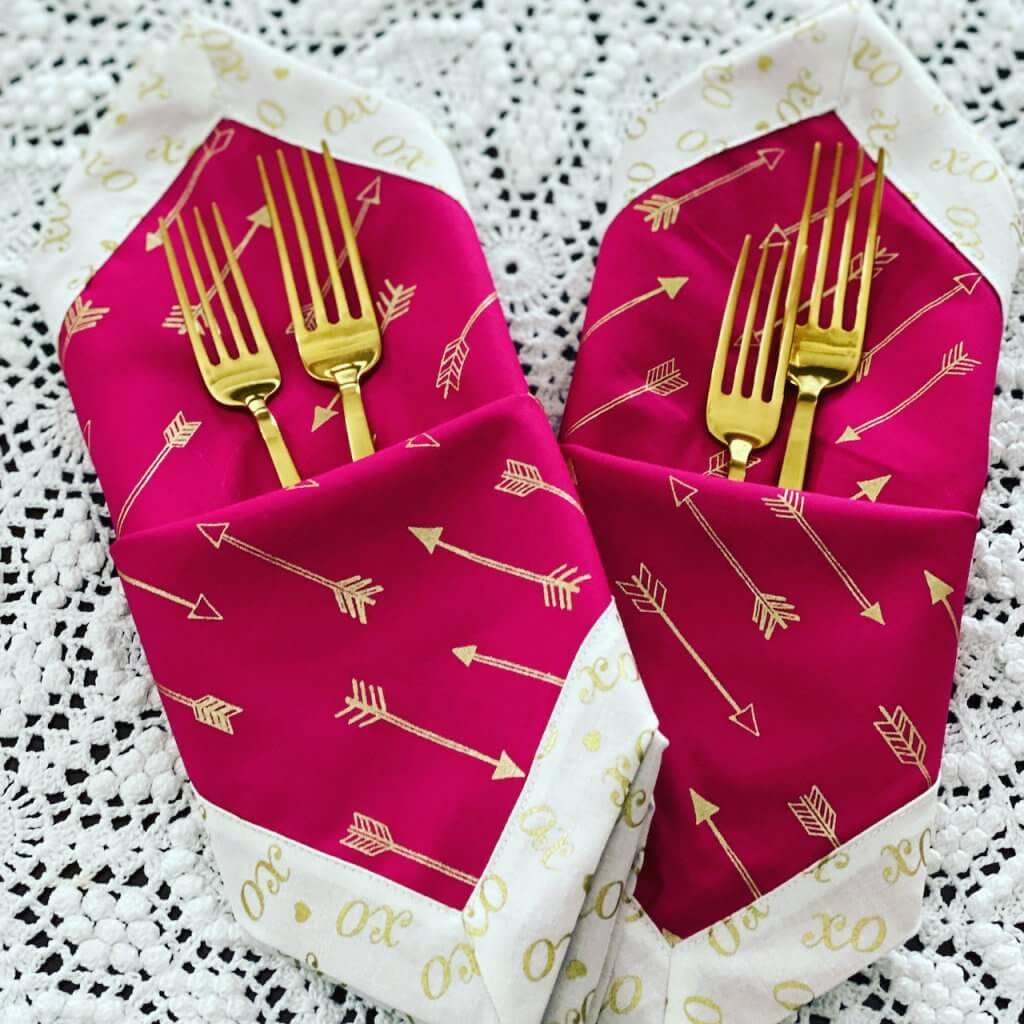 These napkins are simple squares, and they are folded to create the pocket. The tutorial is here on my website, and I have instructions in my book Tantalizing Table Toppers. The arrow fabric is from Michael Miller Fabrics, and the XO fabric is from Timeless Treasures. We have both in my shop and online shop. Here are the links below.
https://www.etsy.com/listing/266762375/michael-miller-metallic-arrows-fuchsia?ga_search_query=arrows&ref=shop_items_search_1&frs=1
https://www.etsy.com/listing/555127740/x-and-o-metallic-from-timeless-treasures?ga_search_query=timeless%2Btreasures&ref=shop_items_search_12&frs=1
Cloth napkins are so amazingly easy. I know that I have waxed poetic about them before.
Then, I added the place mats. These are also from my book Tantalizing table toppers. Best part about these are that you don't use a binding, just bring the back around to the front. They go pretty fast and the impact is awesome.
Now–if you don't have the right plates you can always go to Goodwill or your fav second hand shop. There is bound to be something to find. That's the best part–the pursuit!
I am going to surprise my husband with a meal on this tablescape. I suck at cooking. No, really. Ask anyone. But at least the table will look good.