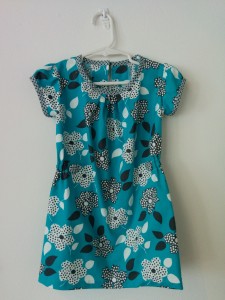 Make this adorable little dress for your little one! Skills learned include finishing edges using a bias trim, sew-in elastic casing, setting in sleeves, hemming and covering sewing on buttons.
Class Length / Schedule: 2 – 90 minute classes April 14th and 21st (Tuesday) 6-7:30pm
Cost: $40
Please note that the class fee is due at the time of sign-up. We are more than happy to take a payment over the phone!
Class size: Max 4 students
Pre-requisite: Advance beginner / Beginner with some basic machine sewing experience.
Student Materials / Supplies:
 Sewing machine
 Pattern – My Favorite Things "Little Shift Dress" (available for sale at the Bungalow)
 Fabric (per pattern depending on size you are making) Note: It is a good idea to
prewash fabrics before sewing garments. Fabrics need to be pre-washed prior to class.
 Scissors and pins and seam ripper