I love all my customers, but there are some that just click. Peggy Jensen is one of those. She comes in with her husband, who is also a terrific guy. Well, they're becoming grandparents so this is a very exciting time for them. Then, Peggy made a quilt for her son. All the fabrics are from the Bungalow. I had a great time picking them out with her. She has a really good eye, and when you see this I think that you will agree.
She used a pattern from one of the "Living Large" books. It is a really great book that both Barb, (Barb who works here Barb) and I have used. We have made many a quilt from this book.
Here's Peggy's quilt for her son.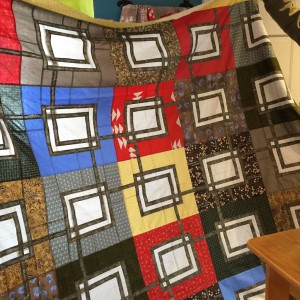 Here's her husband peering over the top of it!
And, for the baby she made this little zip up bag. I love to call babies "Bag 'o Baby" in these. It is turning out beautifully. She used Cascade 220 Superwash.
She's been very productive.