Improvisation is a word that is often reserved for improvisational quilting, improv Theatre, improv comedy. We have become accustomed to think of it in those terms. With so many gadgets at our disposal, we sometimes forget that our mothers and grandmothers had to improvise all of the time.
Have you ever had one of those days where you look at some design element or decorative piece in your house, and decide that you are just done with it? In fact, you often think "why did I ever think that was cute?" Sometimes, when we feel that way, we can actually benefit someone else. When something gets thrown out to Goodwill, someone else thinks that it is just perfect for them.
What does this have to do with improvising? I'm getting there. My daughter often decides that she doesn't like something in her decorative repertoire, and frequently, I am the beneficiary of her cast offs. Sometimes, it is the other way around. She recently decided that she didn't want a pair of down pillows that measured about 26 inches square. She didn't like the pillow coverings, but the pillows were just plain white inserts. When she asked if I wanted them I snapped them up quickly!
So, they were up on my list of things to make. I wanted to make coverings for them and use them at our lake house. This is what they looked like with the original coverings.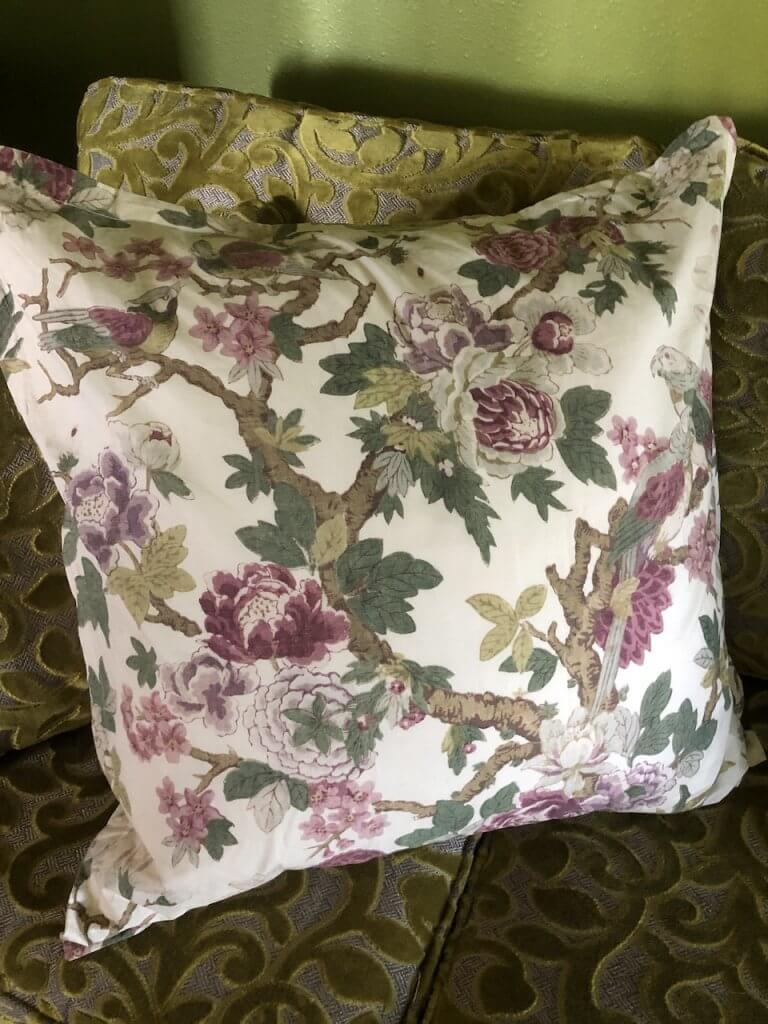 They were too large for my couch, and the fabric was truthfully very ugly. They may have been nice at one time, but no more. I wanted to use them on a bed or on outdoor furniture in my screened in porch.
I had a million ideas for the fabric choices. There were 2 of them so I could do them the same, or in different fabrics.
Since they measured 26 inches square, I knew that I didn't have a zipper that large for the back of the pillow. I never, ever make pillows that don't either have an envelope type flap on the back or a zipper, or both. I don't like the thought of an insert like this being covered permanently. It is my advise to new sewists to never get lazy and cover a pillow without some means to remove the decorative covering.
I wanted to sew them right away! I didn't want to wait until I could purchase a large enough zipper. I didn't have zippers that long in the shop either. That meant that I would need to use 2 zippers that were 14 inches in length. I love to sew zippers in to things that coordinate but don't match the fabric. When you do this, the zipper itself becomes part of the design.
So, I set about making my flap on the back, and I sewed 2 zippers in that met in the middle. This way, they would both open outward toward the edges.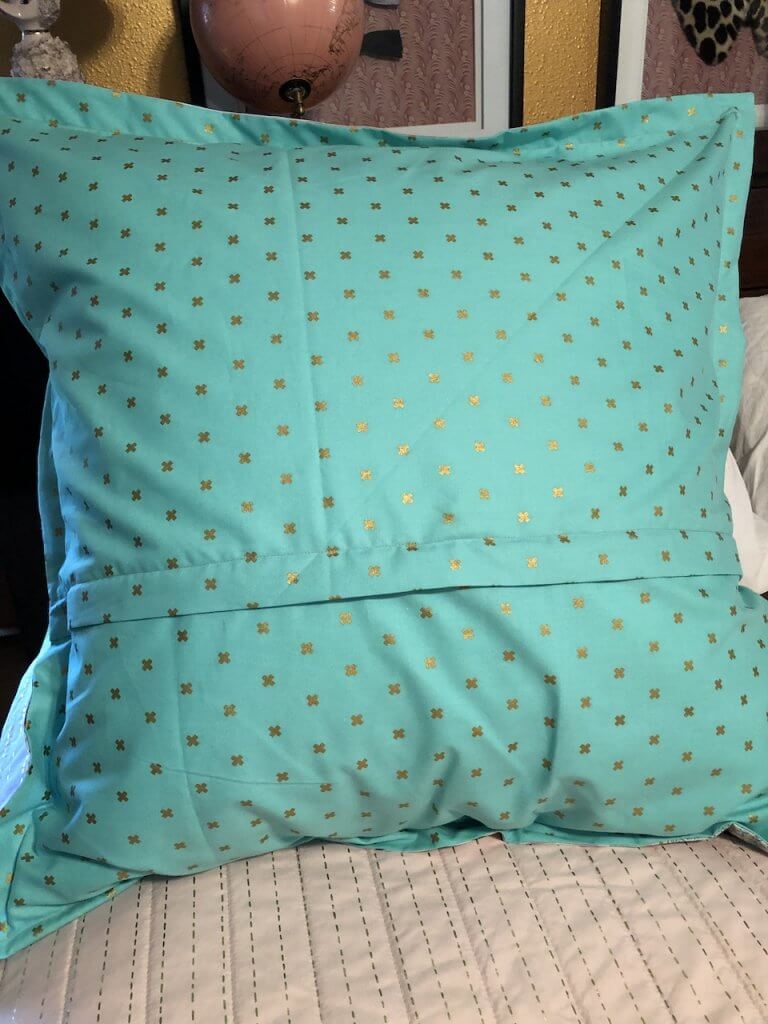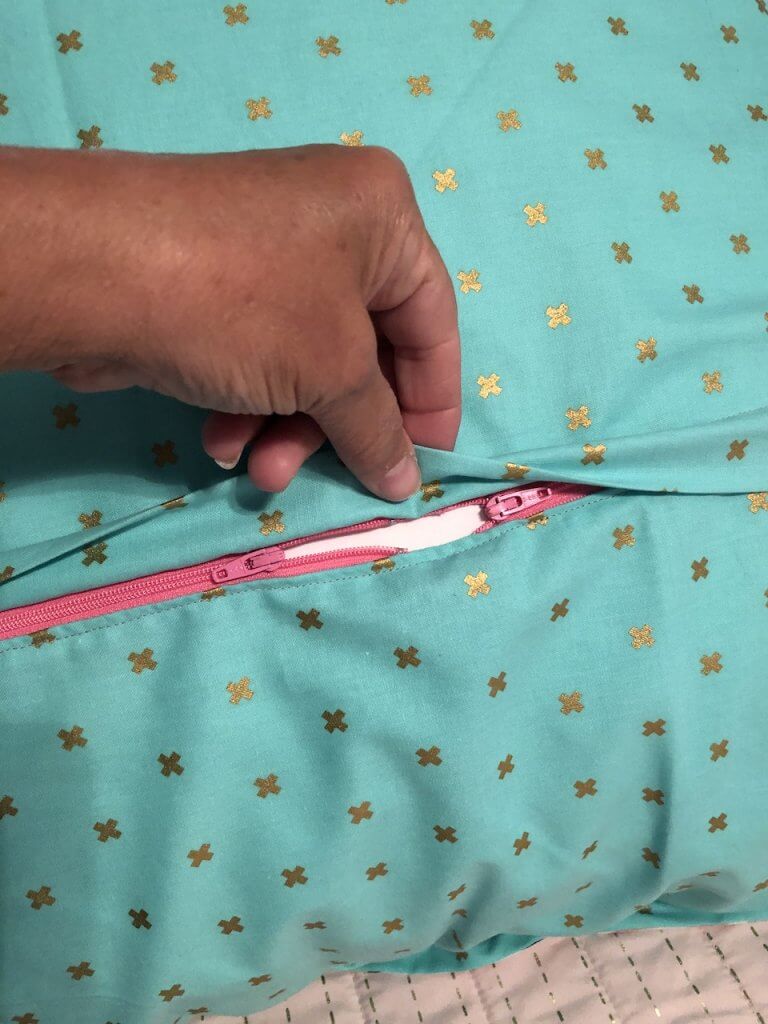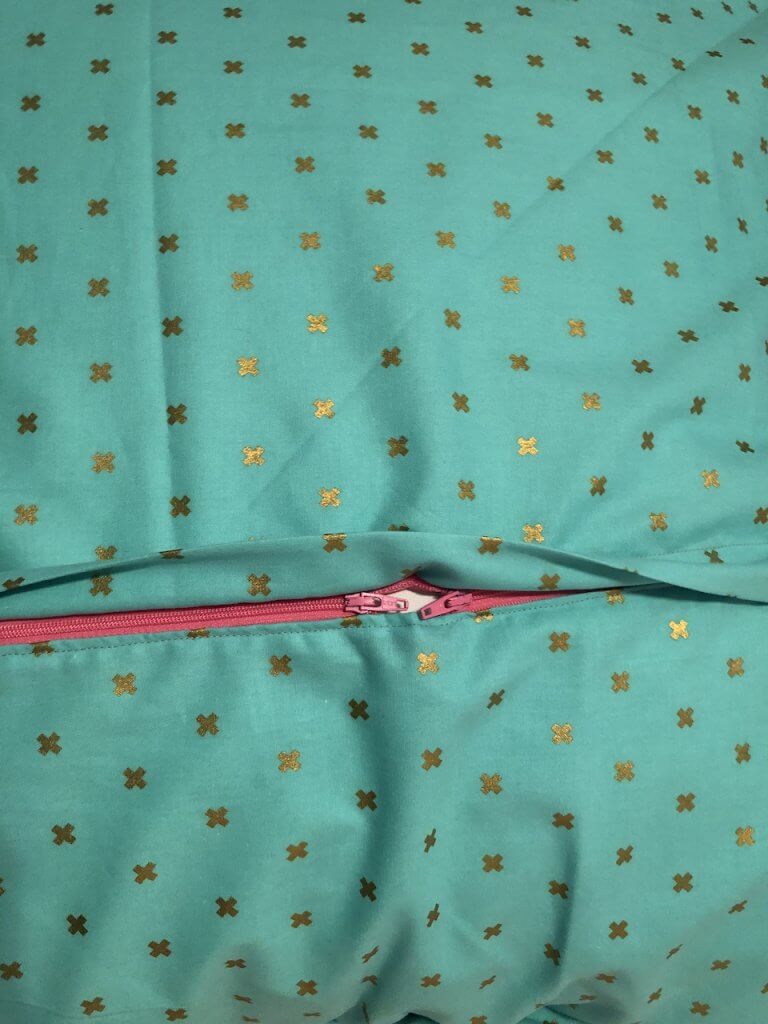 Here is the front of the pillow! I love how the Cotton + Steel mint XOXO fabric coordinates with the fabric on the front of the pillow. I think it's equally important to make the back fun too.
So next time you don't have a long enough zipper, think about an artistic blend of 2 zippers. It might have been cute to mix 2 different colors, or swap out the zipper tabs. Maybe with the next one!