I am always looking for garment patterns that will please our customers in multiple ways. First off, garment sewing is hot once again. Why? Because people love to work with their hands and sew, and are ready once again to branch out from quilting into sewing other things.
The quilting upsurge was a direct result of the love for sewing that many people have. As clothing prices dropped and dropped many people didn't feel the need to sew their own clothing. Still some persisted because they felt the need to create original works of art to wear. But because clothing became so cheap and people still wanted to sew, many people turned to quilting. I love quilting but I also love to sew garments.
This particular pattern is simple, and it will suit all body types. That's the other thing…many people don't like being disappointed if a garment doesn't fit. We have all gone through weight gain and loss swings, and don't like the idea that we may make something and it may not fit! I try and buy garment patterns for the shop that will satisfy a large percentage of the sewing population. This one does just that.
This jacket was made by our own Barb Bending. She's an expert. She used to sew for Nancy Zieman. You can't sew for Nancy Zieman and fake it. You've gotta be good, rest her soul.
So I had her make this for the shop using Essex Linen by Robert Kaufman, but it's the Essex Linen Metallic in Natural. What a prize, gem, whatever you name it. It's sew elegant. The cuffs are made using Shannon Cuddle. This is the perfect garment for fall winter and spring. Fur is always appropriate unless it's summer. I just LOVE this jacket.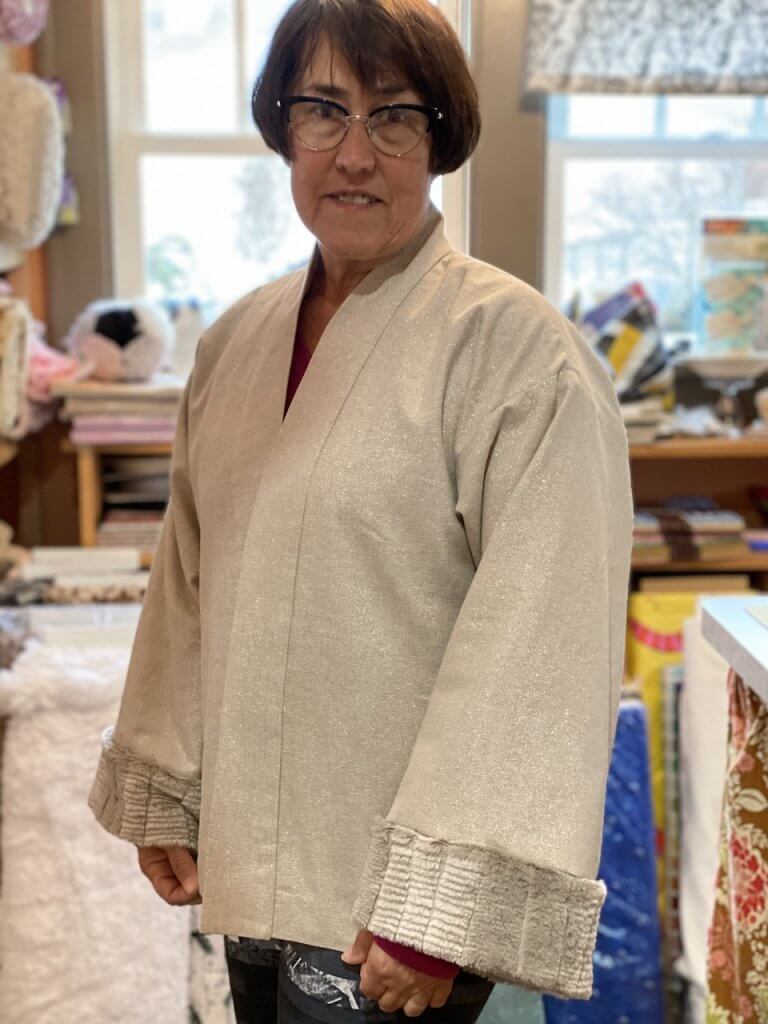 You can see the metallic shimmer!!!!