Whooooo wants to help us out? Once again, we will be doing a tree for the Enchanted Forest. What is the Enchanted Forest? Well, it's a display of beautiful Christmas Trees that are all together in one place during Dickens of a Christmas. This is a weekend long celebration of the businesses and schools in our beautiful little town. It is a festival of sorts. There are lots of things to do, and lots of fun to be had.
Check it out here. 
The Enchanted Forest is a fund raiser, and it is produced by a non-profit organization. All of the proceeds go toward a good cause. With that in mind, Bungalow is sponsoring a tree again this year. Here is an image of the trees all together last year.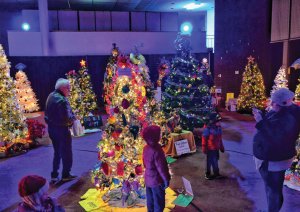 So, here's what we're doing. We are giving out a free pattern of the shape of an owl. Come in and get your pattern and also a piece of Cuddle. This will be provided free of charge.
Pick up your Cuddle and Pattern between now and November 30th.
Take your pattern and cuddle home and cut out the owl from the cuddle.
Find a small piece of fabric for the back of the owl and apply stabilizer or interfacing to give it some "oomph". Cut out the owl shape.
No need to sew it right sides together. Just lay the cuddle and the backing fabric wrong sides together and stitch around the outside. You can use a decorative stitch or anything you want to. The sky's the limit!
Before sewing it together, you will need to add a hanger in between the layers. A small loop of either yarn or decorative thread works.
Add googly eyes, or make your own eyes. Get creative!
Must use the pattern provided.
Bring your owl back in before December 2nd. When you bring it back to the Bungalow, you receive a coupon for 20% any fabric! (Does not apply to minky or silk dupioni, or commercial pre-cuts)
This will be so much fun to see these owls! Post them on Instagram and Facebook with the hashtag #dickensowl
Here's my owl. As of this writing, the dog grabbed it off the table and chewed off the feather wings. UGH!!!!