Hello all! If you are making a block for Mary's retirement quilt, you've found the right page. I am going to walk you through a few simple instructions. If you are a quilter and have a good idea of what you want to do, then you can disregard these instructions. If you are not, then here we go.
Take your 10 inch white square and your piece of freezer paper to the ironing board. ****The freezer paper is only for stabilization of the fabric. When you iron the freezer paper to the fabric it keeps it from shifting under the pen.******
Set the iron to the setting for cotton and linen. Make sure that your iron and ironing board are clean, and there is nothing that could create a stain on the fabric.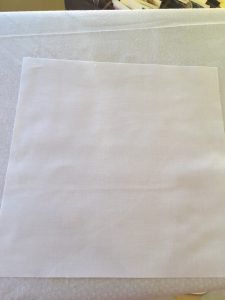 There are 2 sides to a piece of freezer paper. One is shiny, one is not. There is not right or wrong side to the fabric. Both sides are the same. The shiny side of the freezer paper will be put onto the fabric.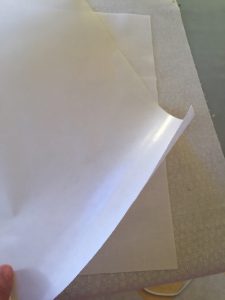 Do you see that one side is shiny? Lay this against the fabric block covering the entire thing. Then iron across it so that it sticks to the fabric. Don't worry if it gets on your ironing board. It is just a very fine coat of wax that isn't sticky like glue.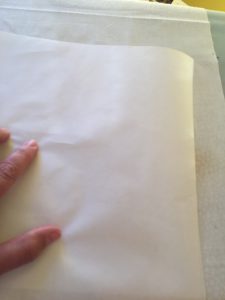 I then turned the entire piece over and ironed on the fabric to give extra security. If you iron too long, your freezer paper won't stick, as the wax will absorb into the fabric and it won't be sticky any longer. So don't over do it.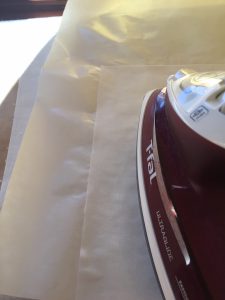 Now you're ready to design. There are many different things that you can do. Use your creativity and remember to make this about Mary, and what you love about her. Here are some ideas. I will explain one of the ideas in greater detail, as this is what I chose to do and will work well for many of you. Also, read to the end so that you know what type of pen to use for this project.
Find a quote on the internet that you would like to put on your block. It can be a bible verse, or something nice that makes you think of Mary.
Are you good at embroidering? Embroider the verse on to the fabric, or write it on.
Applique a design onto the fabric. If you are appliquéing, make certain to reinforce the back of the fabric with a stabilizer. There are many good websites that can help you with that.
Add buttons or embellishments but avoid gluing things to the block. They won't last and will look cheap.
Draw an outline with the pen and color it in with crayon.
Use fabric markers to make a design.
Now, lets expand on this. The kind of pen that you must use is either a micron pigma pen, available at Hobby Lobby, or a Sharpie fine point. I always use Sharpie Fine Point pens rather than micron pigma because they're readily available, they're permanent and inexpensive. They do the trick as well if not better than the micron pigma. The micron pigma has such a fine point that it gets stuck in the fibers when you're writing with it.
Of course, you are leaving the freezer paper on when you are doing your design. If you're embroidering over your design, you will take the paper off of the back and add a stabilizer before embroidering or appliquéing.
If you are not sure of your own drawing abilities or handwriting a lightbox works well for tracing. Or, tape the entire thing over the design that you want to copy onto a sunny window. Then trace.
I chose the outline and crayon method. A good box of Crayola crayons works wonderfully. Here's how to do it.
Outline your design. Grab a crayon and color in the design.
Remove the freezer paper from the back of the block. Put it shiny side down over the front of the block, covering the colored part of your design that you did with the crayon. Iron over this with a hot iron to heat set the crayon. This causes the colored wax from the crayon to permanently sink into the fibers. It looks beautiful when finished. Pull the freezer paper off and admire your work. You can even blend colors this way.
It will remain permanent for many washings.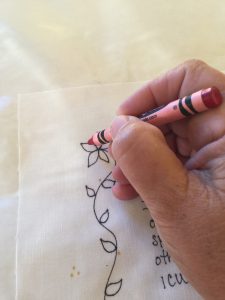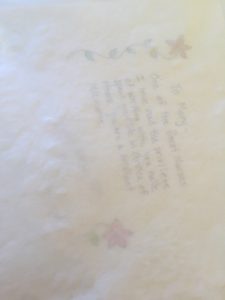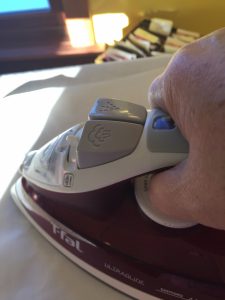 Remember, there will be a 1/4 inch seam all the way around the block. Stay inside the 1/4 inch seam allowance that is around the outer edge of the block.
Return your block to the staffing office. A donation of $10 would be appreciated as the fabric cost money and it will need batting, backing and quilting. We may also add sashing, and that will require more fabric.  It costs over $100 to have it quilted, and we want to create something beautiful.