A great time was had by all on Friday, March 16th. Saturday's events were cancelled due to a lack of participation, but we will try again next year. The classes were a huge success. Amanda Jean Nyberg, of Sunday Morning Quilts and No Scrap Left Behind (C & T Publishing) came to Ripon College to teach. Cathy Roeder, a local, expert seamstress and long-arm quilter of Catz Quilts also gave a class in free motion quilting on a regular home sewing machine. Everyone had a great time. Here are some highlights.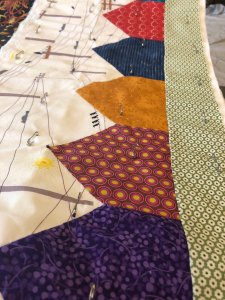 This was a table runner being pin basted so that machine quilting could be added. The pattern is from Quilts for Scrap Lovers. Cathy Roeder taught the class on machine quilting. I just love the telephone line fabric used in this runner.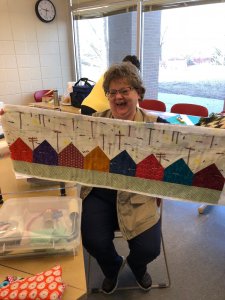 Here is another shot of this runner. It's so fun and modern.
Here's Cathy, giving practical advice to her students. Everyone in that class could be heard down the hall whooping it up. If you know Cathy, she's just like that. Everyone in her class was encouraged to laugh and have a great deal of fun and learning. Don't miss her class next year.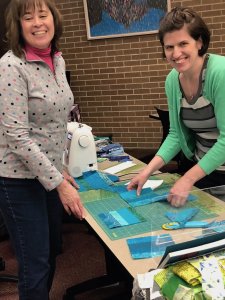 Here, Amanda Jean is giving good advice to one of her students, as a pile of quilts waits to be Ooo'd and ahhh'd over. She made quite the splash.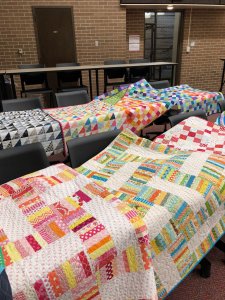 We hope that you will consider signing up next year.