We are having a monthly challenge. It is described in a previous post. The fabric is an olive fabric that is tons of fun. Debbie Laffin entered the challenge. If you enter you can win a great fat quarter pack. There's still time to come in and enter. She entered this sweet little mini. It only has to be something small. You have until March to get it done. It hangs in the shop over all of March and gets voted on by our customers. You can make whatever you want. There's no cost to doing it, so come on in and try! Here's Debbie with her entry.
Then, Kim joined the fun. She's from Milwaukee and they are moving here. Here she is holding up her fabric.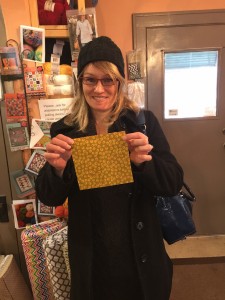 Come and join the fun.