I'm still in California. I am just reeling over how beautiful the Golden Gate Bridge is. I love art deco design. I also love any type of design from the arts and crafts movement. The Arts and Crafts movement occured during the progressive era, or just after the turn of the century, some time in the early 1920s. Why does that design sensibility just sing to me? Everyone has their favorite era for art, or architecture. I love to hear from people about which ones they love and why.
I was just going through my pics of the Quilting in the Garden class that I taught. It was such a lovely setting. I am going to have to talk to a local nursery that is just as beautiful at home and see if we can set something up like this!
The women that took my class had so much fun with the Sunshine and Shadows block, which is in my book. This tiny little block is so versatile. There are so many ways to flip it around and have it work in different designs.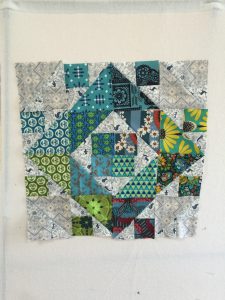 This is the first one done with all of her little blocks. We put them together to form the block that is in the book. When I get home I am going to make up some more of these blocks and put them in different designs. There are so many things that can be done with them, and they are just from scraps! Because of my template set, you can cut these quickly and make up this block from basically nothing. The scraps that you thought you wouldn't ever use again suddenly have new life.
Talk about getting new inspiration in your sewing room…this will do it!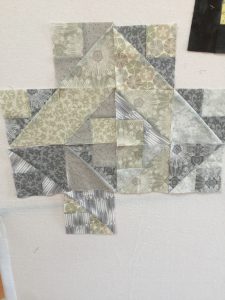 This one is a number of the "blanks" put together. I love the shadowy, ghosty feeling of these blocks. They are supposed to be "blanks" which are the blocks that are the filler within the larger block. We decided to put them all together to see how they would look. They looked amazing.
Some of the gals had scrap piles that looked just like my scrap piles at home. They looked like the fabrics that I would choose. That part was fun.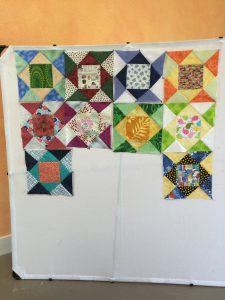 Here are the Dutchman's puzzle blocks that we worked on. It is again, one of the blocks in my book. When you put them all together, you can see the potential for secondary design to emerge. If you chose to highlight the pinwheels or the diamonds, the quilt would look different every single time.
Then, we did the House Divided Block. This is actually my favorite block. Depending on how it is laid out, you can get different designs from it as well.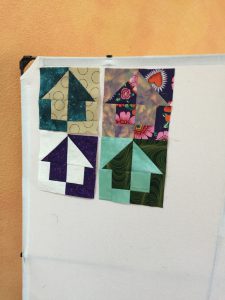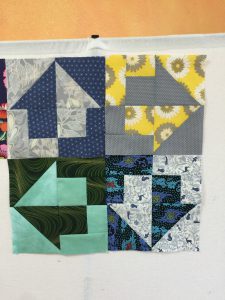 I can't wait to get home to recreate some of these blocks and start playing.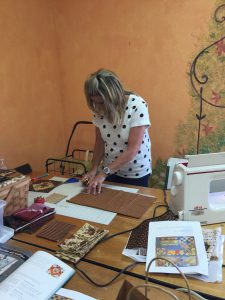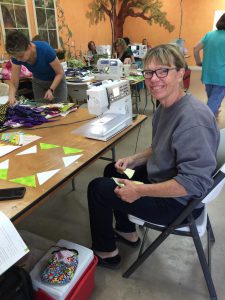 Here are some of the lovely ladies that were in my class. The class was full and had sold out. Everyone was anxious to get home and sew on their blocks.
There's nothing like making something great from nothing–well, almost nothing! That's how I feel about scraps!