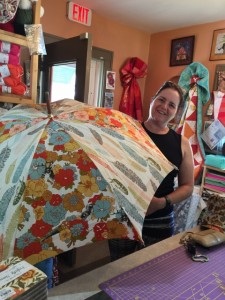 I can't get enough of seeing the creations of others. You know how I am always saying that my customers are my inspiration…well, they are. But I have some pretty creative ladies that work for me once in a while…here's Cindy. She created this umbrella. I love it. I really love this fabric line from Moda. These umbrellas really are waterproof. When you spray them with waterproofing spray, they become waterproof.
Cindy's husband has a company that he is in charge of that makes all kinds of paint related products. He has a product that Cindy sprayed or painted onto this umbrella. The water just beaded up.
And…speaking of umbrellas, don't forget we are being published this September in AQS magazine. That's right. My pattern and my umbrella will be in AQS magazine. So come on down and buy an umbrella frame and do one for yourself. Then, make a whole bunch for people that you love, that you don't want to see get wet!