It's official. We will be grandparents this summer. Jackie is due in May, and Katie in July. Jackie is having a boy, and Katie is having a girl. So, I am knitting and sewing like a mad woman. The shop has been kind of quiet, like it usually is this time of year. So, I have been able to sew my little heart out. I would much prefer to have customers in the shop, and a few have trickled through, but it's great having time to sew.
Here's the quilt that I made for Freddy. Yes, Jackie is naming him Freddy. Jason's grandfather was Frederick. It comes from a panel by Cori Dantini for Blend fabrics. I cut the panel up and framed it out in a wonky fashion. So fun. I love her artwork. There's very little work required when you start with a panel. No, I don't mean one of those creepy old lady panels, although God knows I am not a spring chicken. But, you know the kind. Well, see for yourself.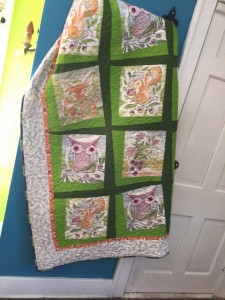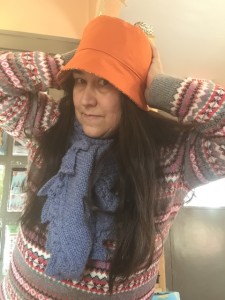 And, speaking of not being a spring chicken anymore, look at this hat. I would have been a lot cuter in it 20 years ago. Hell, 30 years ago. But I am still going to enjoy it. It's a free pattern and I will tell you where to get it when you come in to the shop. It's designed so beautifully. It was a snap to make. It's all lined and everything. My daughter was skeptical when I told her that I was making one for myself. I made a little girl one too.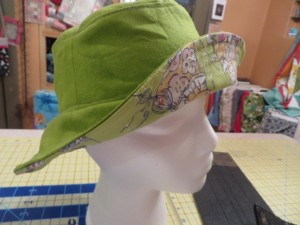 She didn't think it would be so cute. It was fun to say "I told you so!"