We have a new baby at the Bungalow and it's our window shades. These window shades are a clutch roller system. They're not on a spring, so they don't slip down throughout the course of the day. What I mean by this is that many people try and cover a regular, spring loaded shade with fabric. If you do this, the fabric is too heavy for the spring loaded shade and it will slip down over a period of time. With these, there are clutch rollers on the end and you raise it and lower it with a stainless steel chain.
Here's how it looks: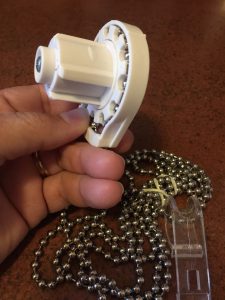 You raise and lower the shade by pulling on the cord. You can use your favorite fabric to make the shade. The roller comes 60 inches wide, so it's wide enough for most windows.
When you mount the fabric, you can use velcro so that you can change it if you decide to paint the room. Or, change it seasonally!

These kits come with the pattern and are only $39.99. What a deal!