Remember the old posters that said "Uncle Sam Wants You"? Well, the Northeast Wisconsin Modern Quilt Guild wants you! Are you fun and creative?
We have a great time. We meet at 6:30 on the first Tuesday of the month. We meet at 314 Watson Street in Ripon Wisconsin. It is a beautiful storefront that is owned and operated by Ripon College. There's tons of space. We love our location.
Here are some photos of what we do: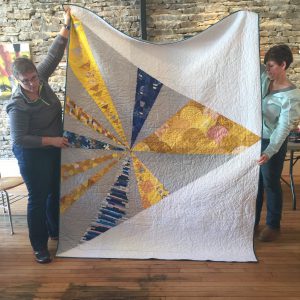 This is the Charity Quilt that we all worked on for Quilt Con. Quilt Con is the annual modern quilting convention. It is held in Savannah this year. Next year it will be in Pasadena again. You must be a chapter of the National Modern Quilt Guild in order to enter a quilt. Northeast Wisconsin Modern Quilt Guild is a chapter. So, with your membership you are automatically a member of the National Modern Quilt Guild. So you are privy to all of their publications and free stuff!
Here is the back of the quilt. It's equally amazing. I love how this turned out. Our guild member Sherry Purtell pieced it.
We are a friendly group. We are not cliquey, and we welcome everyone.
Here is a quilt made by Jennifer Block. I love that her last name is block and she's a modern quilter! I love the soft, low volume look of this quilt.
We also do other things in show 'n tell. If someone has sewn a bag or garment we show this off too.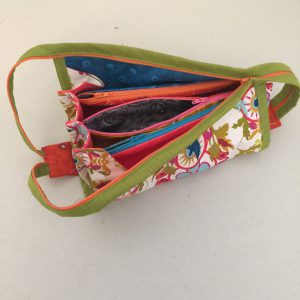 Here's a bag that I sewed. It took me a lot of time and attention to detail and it's made with modern fabrics. We welcome all kinds of projects.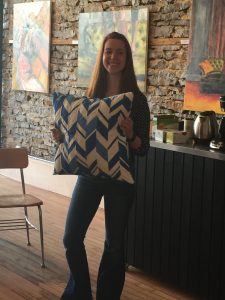 Here's our sweet Eliane Bergman. She is holding up the pillow that she made. I love it when people do home dec with modern fabrics. It is so gorgeous just like her! Here's a close up shot of her pillow.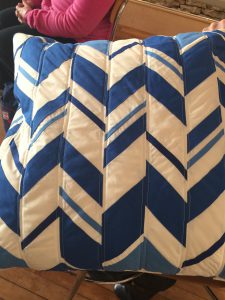 See how much fun the show and tell can be?
So, then we also do this thing called "Block Lotto". Every month we are assigned a color palate. The blocks are made and then if you make a block you can qualify to win all of the blocks the following month. So fun. Here's one of our newest members Connie Ghanazzi holding her block lotto block. She actually lives in Iowa. She is here for part of the year. She's an amazing sewist as shown in the next photo.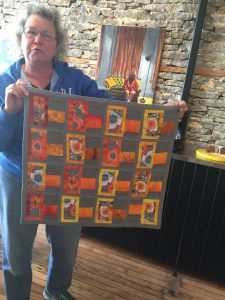 I love what she has done here! She's amazing.
Come and join our group. You'll be so happy you did.