I am very happy to finally show you this quilt. Again, this one was under lock and key because it's part of a new book from C&T. I really think that everyone will like it as well if not better than the first one. There are 12 projects in this book. They are all made, once again with my template set. The templates are 3 1/2, 4 1/2, and 5 1/2 inch squares. Each and every quilt that is in the two books are made with only those sizes of squares. They work magically together.
I really like how it appears that the owls are holding hands in this quilt. You know, owls never get old. They have been popular themes for decorating and crafting for many years. It started in my recollection in the 70s, but I don't remember much before that time. I think that they have been popular throughout time.
I grouped the colors together in each block once again, because it is such an efficient way to use up your scraps. It makes it a lot easier if you are unsure of color placement. If you keep all the reds, all the blues and all the greens in each block, it is just a ton easier to place them in a pleasing manner. Then, pay attention to your lights and darks. It will come together amazingly well.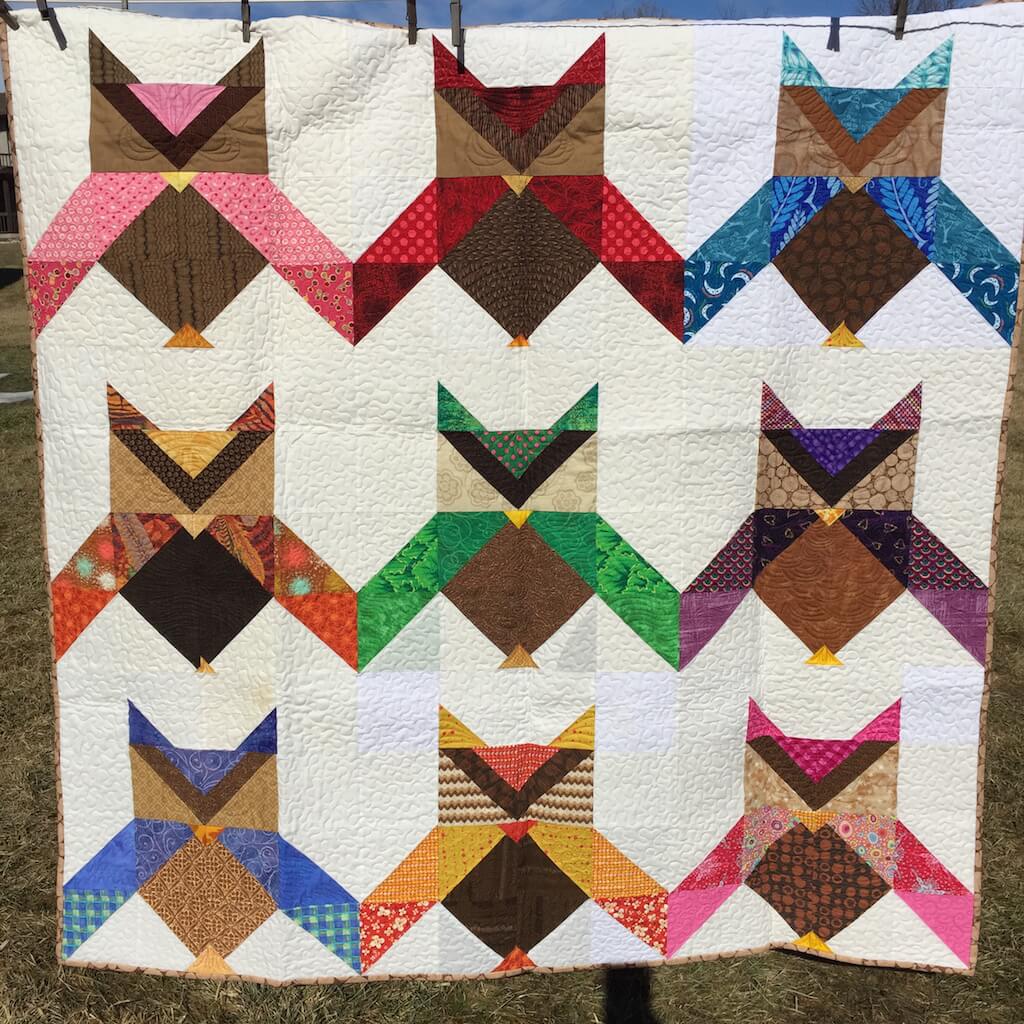 I wanted to put a full size picture of it up so that you can see just how well it works to group the colors together. With the yellow owl in the center bottom row, I added orange too, since orange and yellow go so well together. It was a great way to use up a lot of brown scraps.
A friend of mine, Karen Haines, gave me a bag full of old brown scraps and said that I should do whatever I wanted with them. Hmmm. I started thinking and this is what I came up with. So, I say, is it possible to make a modern quilt with older fabrics that maybe wouldn't be considered modern? Yes it is. It is just a matter of juxtaposition. You have to have enough modern in the piece but you can throw a few of the oldies into the mix.
For example, the swirl fabric in the blue owl, bottom left corner is from Jennifer Sampou for Robert Kaufman fabrics. This piece is at least 15 years old. It was a fabric that was wise before it's time. It's timeless. The purple fabric in the far right owl, second row, is as old as the hills. It is a Patrick Lose piece. Not sure who he was designing for at that time. Perhaps Timeless Treasures? But, I added some Tula Pink and voile' it's new again.
So playing with scraps is what I do best, and I am happy to be able to finally share this with everyone.