Everyone loves a picnic. Well, sometimes when the bugs are bad it can be discouraging. But, other than that Wisconsinites, in particular, cannot wait to go outside and eat.
You can see people in restaurants eating outside even when it's in the 50s. There is such a novelty about eating out of doors. As soon as the sun is high enough in the sky people start to think about picnics.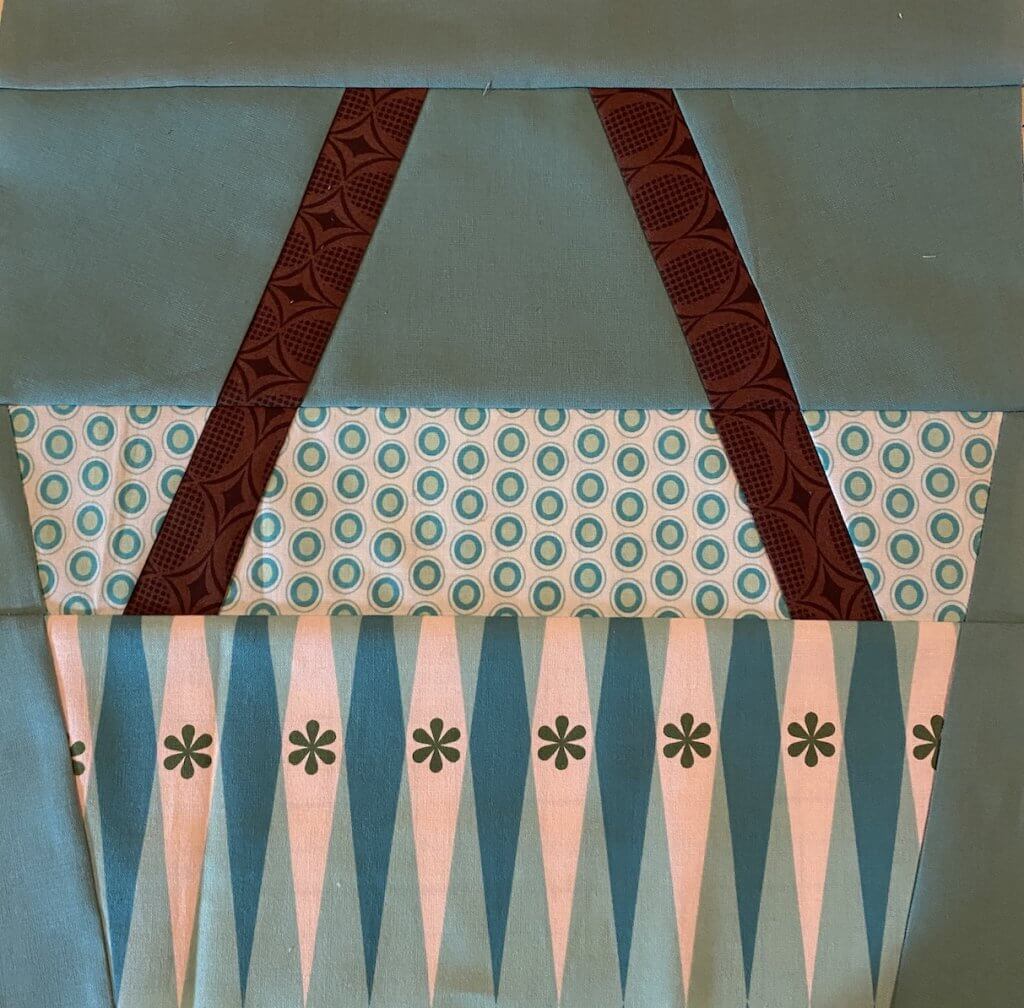 One of the things that I do with my grandchildren that I did with my kids was to pack a picnic as soon as the weather warmed. Even if we just eat in the yard, 50 feet away from the house, it is charming and something special.
A good picnic should always include cloth napkins and a tablecloth. I use regular plates and silverware, and take it in a large picnic basket. It's such a treat!
So, I have decided to do something to really celebrate spring. A quilt to sit upon when having a picnic would be awesome! What if we did an in store block lotto? Yes, what a great idea. We can all make one block and one person will win all of the blocks in a drawing!
Make a picnic basket block using a free pattern that will be provided by the Bungalow. It's a PDF download. It measures 12" x 12" when finished, 12 1/2" x 12 1/2" unfinished. Make it super cute and modern. You can embellish it any way that you want to. Add flowers, add fruit. The sky is the limit. The pattern is super simple, make it as elaborate or simple as you would like.
The contest starts now. Contact me through this website or by email at [email protected] You will be sent a pattern. Bring it back in to the Bungalow and it will be displayed and posted on social media. For each block that you enter, you will receive an entry into the contest. Make one block, get entered one time. Make 2, get entered 2 times. If we receive 25 blocks, we will have one winner. If we receive fewer than 50 blocks, but more than 25, the initial winner will take all. If we receive 50 blocks, we will have 2 winners. If there are more than 50 blocks but less than 75 we will split the remainder between the 2 winners. If we have 75 blocks, we will have 3 winners and so on. So, are you in?
Make your picnic block and bring it to the Bungalow anytime before June 1st. We will choose a winner(s) on June 1. If you win you can take your blocks home and make a picnic quilt!
Rules:
Must use quilt shop quality fabric. No blocks with fabric from JoAnn Fabrics, Walmart, or Hobby Lobby will be accepted.
Use bright colors that tend more toward modern fabrics.
Attach your name, phone number and email address on the back of the block. If you have an instagram handle, include this as well.
Blocks may be mailed to Bungalow Quilting and Yarn or dropped at the shop in person. Mail to Bungalow Quilting and Yarn, 646 West Fond du Lac St. Ripon Wi.
If you're unable to pick up your winnings, they will be mailed to you.
Blocks will be displayed at the Bungalow so that all can see them and enjoy!