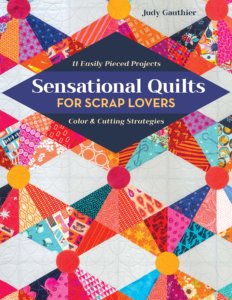 My latest book, Sensational Quilts for Scrap Lovers takes up where Rainbow Quilts for Scrap Lovers leaves off. The quilts are progressively a little more modern without tons of negative space. There are wonderful tips and tricks for working with color, and how to make transitions of color within a single scrap quilt for a more blended effect. Again, we are using actual scraps, not new pieces of fabric that are cut into strips, and you are marrying difficult fabrics together to create an amazing effect. I think you will love this one as much as the first two books.
Let's take a look at some of the quilts in this book.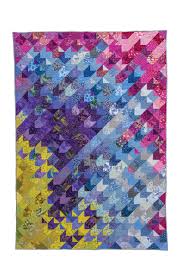 Here is one of my favorite quilts. This quilt actually traveled to the UK to be in a TV show about quilting. It was inspired by a weather map on a really cold day. There is a lot of color blending going on in this quilt, and there are great instructions on how to blend color when colors are not next to each other on the color wheel.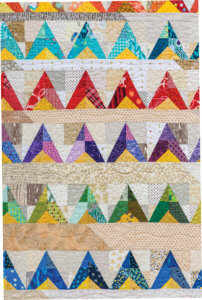 This quilt is called Teeny Tiny Tepee Town. It utilizes a very unique cutting system that is used throughout many of the quilts in this book. Like my other two publications on scrap quilting, this has unique cutting techniques that make cutting easy and actually fun!