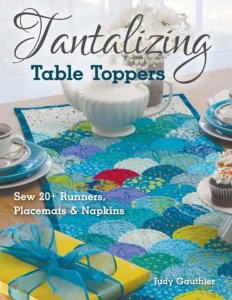 Anyone that knows me knows how much I love to set a beautiful table. Perhaps it's a distraction from the fact that I cannot cook. But all jokes aside, there is nothing more pleasurable than setting a beautiful table for a holiday event, a birthday or just because. Your family will be thrilled to walk into the kitchen and see any one of these beautiful table toppers. This is a great way to add a splash of color and a sense of delight to any room. There are table runners and placemats and napkins in this book. There are projects for any level sewist or quilter. You won't be at all disappointed.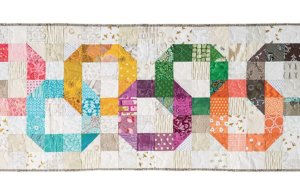 This is the first one that I sewed for the book. It's easy enough for a beginner, and the best part is picking out the colors. It looks a little like an easier form of a wedding ring quilt. It could be made into a quilt. The directions are simple, and all you would have to do is extend the pattern and make it larger.

This one was made as I reminisced about a trip we took to Scotland. I have always loved argyle. I have tried knitting it a few times, and it's certainly not simple to knit. This is probably the most challenging one in the book, and would be great for an experienced sewist, or, someone that would like to test their skills.

This is one of my favorites. There is a cacophony of texture in this table topper. Sometimes a table can appear too flat and you need to add texture. This would be great for a wintery dinner, for Christmas or Thanksgiving. I can't think of  a better table topper for a hunting lodge. The various textures include metallic canvas, Shannon Fabrics Cuddle fabric and actual silk dupioni. The leaves are raw edge and pleated. They are anchored at one point and left as a dimensional delight.
To see more of these runners consider buying the book Tantalizing Table Toppers, or check it out from your local library.