I love Wisconsin. No, I really, really love Wisconsin. In particular I love my hometown, Ripon and I love the many small towns in this state. Why do I love them so? Because we take care of each other. It doesn't matter what side of the fence you're sitting on. We are all in this little town together and we really depend on each other. I depend on someone to plow the shop and cut my grass. They depend on me to help them in their businesses by spending my money locally. They also depend on me for fabric! Well, maybe not the guys shoveling my walk, but somehow they're intertwined. My husband, a physician, takes care of a very large percentage of the community. They depend on him, and he depends on them. We respect each other.
The migrant situation was a political hot button. Well, at least the news would have us believing that it was. There are people in need and our community answered the call. I received quilts for the migrant families after I put out a plea for people to make quilts. They received free batting, free fabric in return for making a simple utility quilt. At first I wanted to do it quietly by invitation only. I was hoping to get about 50 quilts.
Being in business I know how expensive shipping is. It's unbelievably high. But, the UPS and Fed Ex man both need to be paid. Gas needs to be paid for. Maintenance of the vehicles needs to be paid for. So, shipping that many quilts was out of the question. I would have to drive them there myself. So if I were going to drive them, then I wanted to make sure that I had many more quilts. I needed to bring this out into the open. But, how to do this without making it seem like you are not advertising? I really didn't want to do it in a way that would seem like I was doing this for advertising purposes. So I put the word out on Facebook. What happened next was amazing.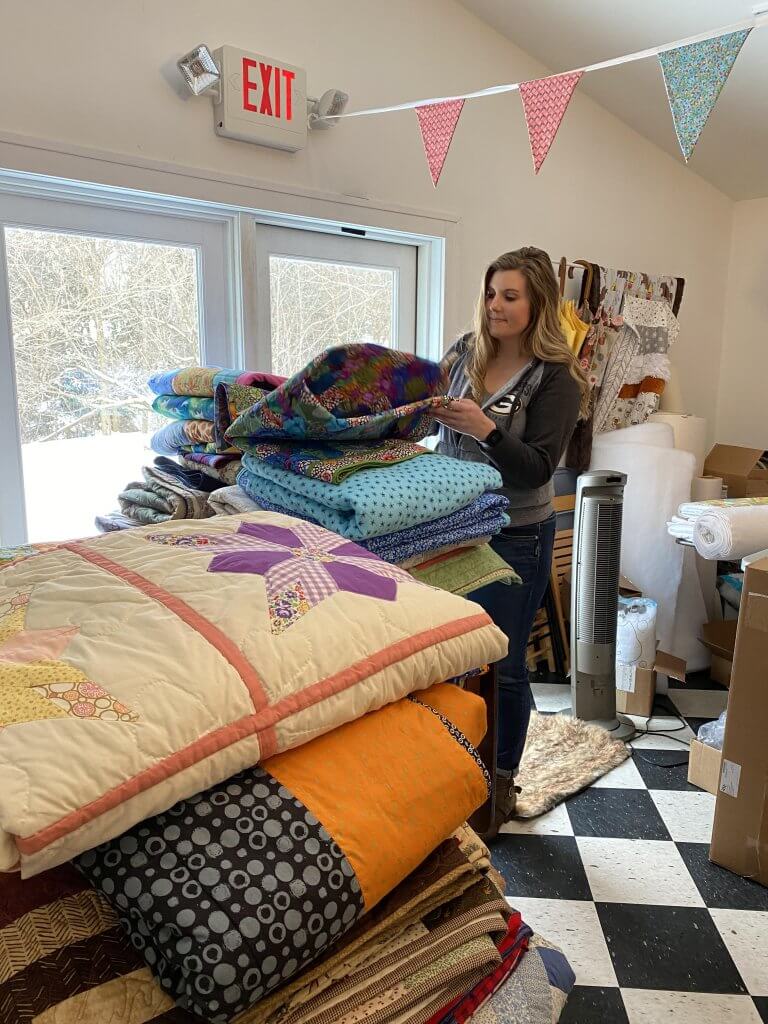 People started calling and coming in to the Bungalow. They all wanted to help. We had a huge contingent from Blue Bar Quilts in Madison that made quilts for the refugees. They made 28 quilts! We also had individuals that quietly came in, got their fabric and batting and returned the quilts without wanting any thanks for fanfare.
We ended up with 145 quilts. What a feat. People are wonderful. We had people that are liberals, people that are conservatives and non politically aligned people making quilts. There was no division. People just wanted to help where there was a humanitarian crisis. I was shocked. It was the most wonderful thing to see.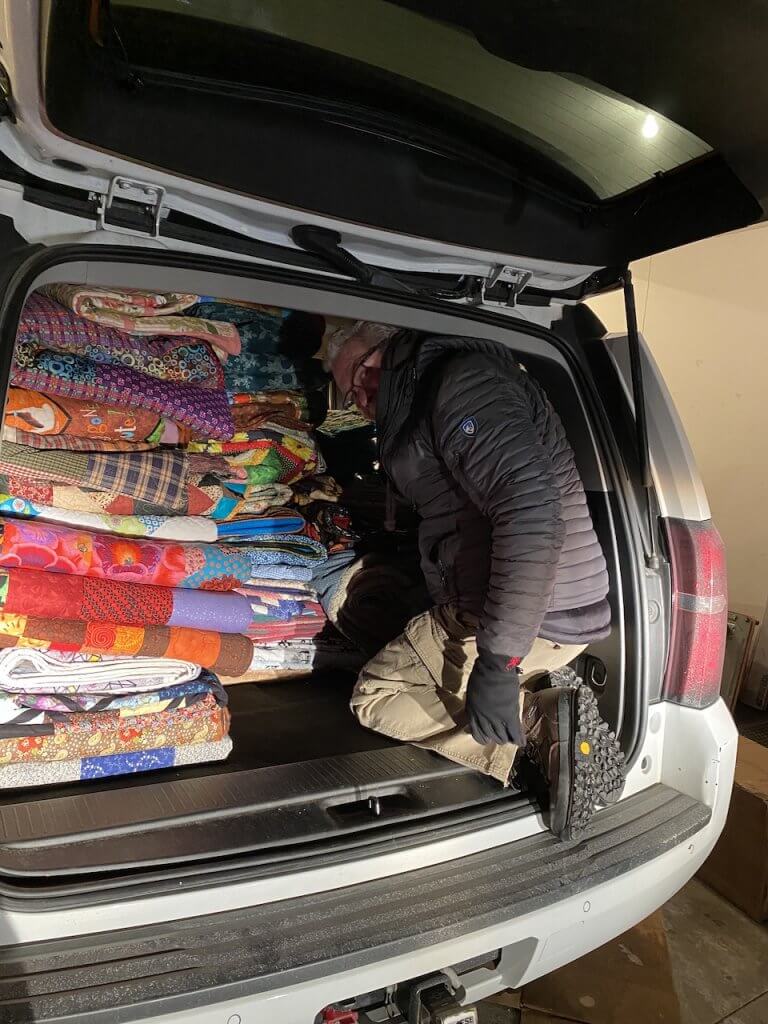 Then came the night to pack the quilts. We had more than would ever fit into the Tahoe. I called my friend Cathy, who was my companion and navigator on the way down. I told her that there was no way that we could pack suitcases into the car. There was simply no room! She came right over with husband in tow. He, an experienced hunter and traveler came into the garage and totally packed those quilts in tight. There wasn't a single inch of space–not even room for a toothbrush! But, in the end, we did get our suitcases in. Good thing too, because I didn't want to go down to the border wearing the same clothes for that many days in a row!
So we started off on January 21st. We rented a car at the MKE airport. This was because we needed a larger car than what we had. We transferred all 145 quilts from my Tahoe to a Suburban. Phew! That was a lot of work. We drove to Chicago so that I could see my daughter for all of about 10 minutes, and then moved on from there. We drove along the old Route 66 for part of the way. At Oklahoma City we headed southward.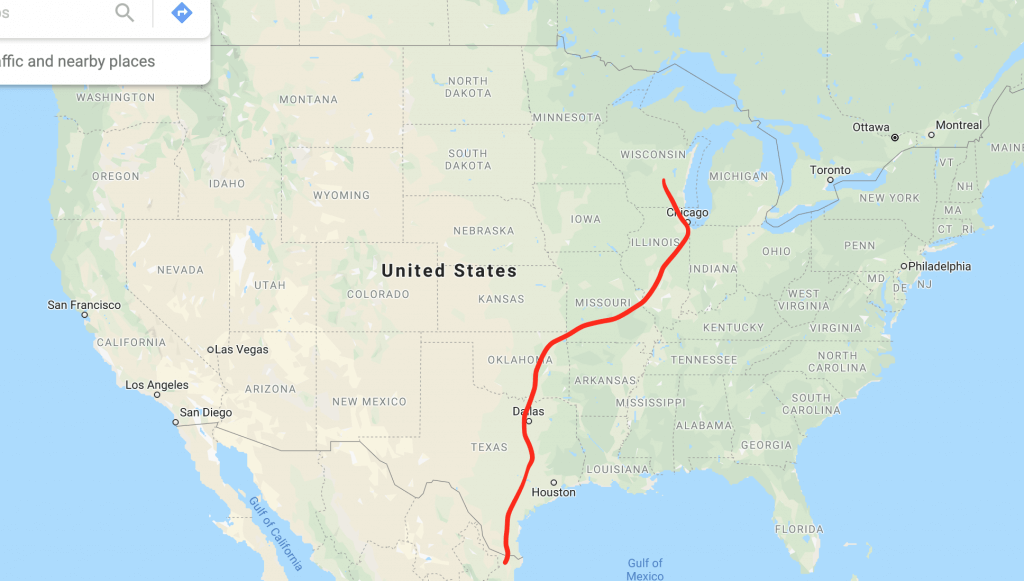 The traffic in Texas was unbelievable. One of the most shocking things was the development in Texas. We really though that we would see cowboys, ranches, and all kinds of wide, open sky. The worst was Dallas/Ft. Worth. If Cathy Roeder had not been the navigator that she is, I would never have made it. She deftly directed me through the massive, endless ribbon that was twisted and turned. What a nightmare! And no cowboys! The entire corridor from Dallas/Ft. Worth to San Antonio was bumper to bumper, city to city.
We arrived in McAllen TX late at night. We found a room and then got up the next morning. We found the respite center. It was not boldly marked, rather, it was inconspicuous. There was a security officer at the door. Across the street, a bus station hummed busily with the constant swish of the bus engines. People were coming and going from the bus station.
We were instructed to drive around to the back of the building where we could drop the quilts off. We went around the block and parked behind the building. Two of the volunteers met us, and brought out a box of large black plastic bags to pack the quilts in. They were going directly over the border that day to take the quilts, and invited us to go along. I had promised someone that I wouldn't cross the border, and so had Cathy. We politely declined.
He said that they make a trip across the border to the camp every single day. So, if that is a comfort to anyone that wants to volunteer, you can certainly contact them and they would happily accommodate you. It is actually much simpler than I thought. I thought that there would be all kinds of roadblocks involved in donating and helping, when actually, there is not.