I have been all over this Sunshine and Shadow block for some time now. I have done it in quite a few different fabrics, but always with scraps. They're the best. These wonderful little pieces of fabric.
Scrap quilting hasn't really infiltrated into the world of modern quite yet. It is coming. As I hashtag #modernscrapquilts and #modernscrapquilting, there are only a few entries that come up. Hmmm….people aren't doing much of this are they? Well, modern quilters that are young have just been developing stashes. They too shall learn very soon how necessary it is to have a plan for your scraps.
I also invited makers to sew along with me on this wonderful block, and see what types of layouts you can come up with. Here are some of the variations that I have come up with for this wonderful block.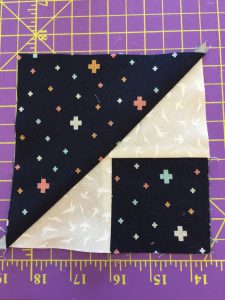 This is the basic block. It's from my book "Quilts for Scrap Lovers: 16 Projects, Start with Simple Squares". It's simple, and one of the most versatile blocks known to the quilting world.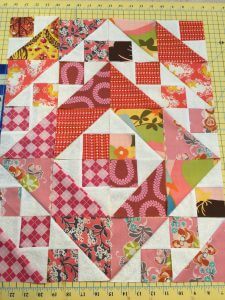 So here it is in the pink scrappy colorway.
I did one in navy blue, which by the way, is my newest obsession.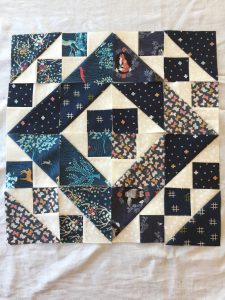 This is the layout used in the book and it's on the front cover of the book.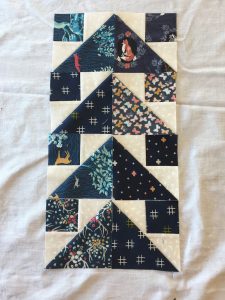 Here is one of multiple chevron variations, and it is obviously done in navy.
Here it is in pink.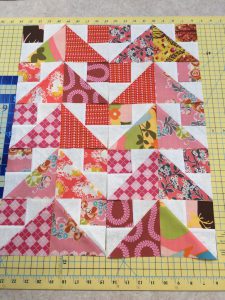 Same layout. I love it in both colorways. Looking at it, you wouldn't guess that all of these quilt layouts are the same block. I've said it before, that quilting is like composing music. Think about the combinations that are endless when you combine notes, time signatures and tempos. It's like this in quilting too.
Barb Bending did this variation with my Sunshine and Shadows block from the book. She used up all of her Halloween scraps and fat quarters.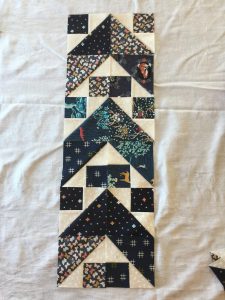 Back to the chevron variation. Here is another one. Now, just imagine putting up a column like this with maybe some sashing up the sides. Look what a difference is made just by turning it.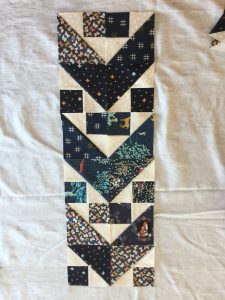 I love playing with this!
So I played on, and here's a bit more.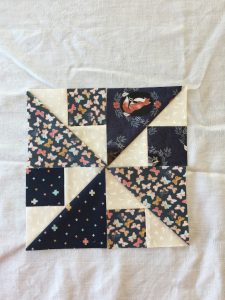 Here's a pinwheel variation. Fun, yes?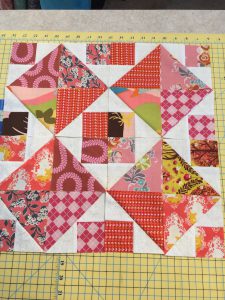 Turns out this one's pretty good too.
Try it out. Make a bunch of these blocks and lay them out. But, to get the full instructions you have to buy the book. It will help immensely to have the templates too. You'll rip through your scraps in no time at all.
When you make your blocks and start playing make sure that you post them on Facebook with the #quiltsforscraplovers and #sunshineandshadowsblock and then everyone will see them. Also, post them to instagram with those same two hashtags. Get ready, set go!!!