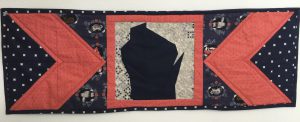 I would really love to do a sew-a-long with the blocks and I am sure that we will. I am pushing on to get all 50 done. I have the patterns, but I don't have them all sewn yet. I can't release the pattern until I have tried it myself and have it done. Even when you think it all seems right, you can be fooled. So, I don't want to release something and have it be erroneous.
What I really love about these state blocks is that they are so applicable to so many people. There are many people who have such a pride and love for their state. I feel that way about Wisconsin. But, there are also people who love states other than their own that they equate with wonderful experiences.
For example, I have a love for Wisconsin and Minnesota, because 2 of my 4 children went to school in Minnesota, and there are many wonderful experiences that we had there.
People can also make throw pillows of several different states for a couch or a bed, or even a camper!
Then, I also have had requests from people who say "Do my state next"!
I did a Wisconsin table runner with the Wisconsin block in addition to the pillow.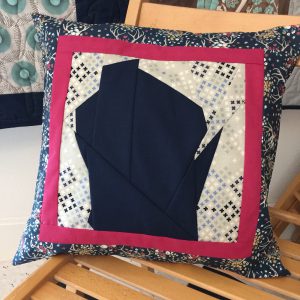 It was fun to do. The hardest part was trying to decide which fabric to use.
So, here are my latest 2 blocks. They are New York and Maine.