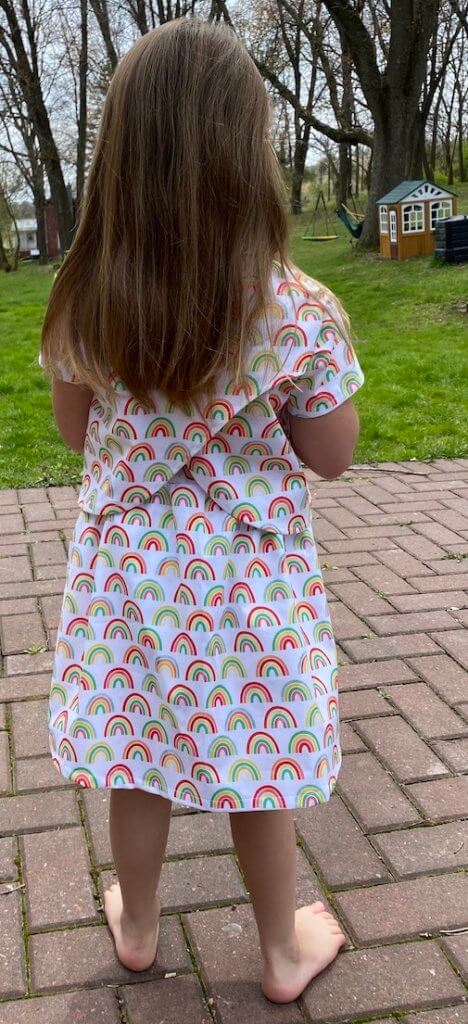 This class will be offered live on May 23rd, 2021 via zoom. The pattern will be sent to you when you sign up, along with a zoom link that will be emailed to you. Take the class in your own home! The pattern is child sizes 3-8.
This is not a beginning sewing class. You must have some sewing experience and know how to use your sewing machine. Choose your fabric and tune in. What will you need?
You will need a computer that has zoom capabilities. You will need a sharp scissors, measuring tape, cutting mat. You will need straight pins for pinning the pattern to the fabric.
You will also need thread to match your project. Your sewing machine must be threaded and ready to go at 12:00 noon Central time. We are on daylight savings time here, so make sure to check how this effects the time in your zone.
There is no need to wash your fabric ahead of time. You will need anywhere from 1 1/2 yards of fabric for the smallest size to 2 yards for the largest size. The pattern size ranges from a child size 3 to a child size 8.
You will also need one small shank style button and a 1/4 yard of interfacing that is fusible or non fusible, depending on your preference. You will also need 3/4" to 1 " wide elastic, 7/8 yards.
Have a safety pin on hand for pulling the elastic through the casing. Also have a turning bodkin or a dull pointed wooden stick of sorts (pencil, dull knitting needle) for turning right sides out.
You should also have your iron set out and ready to go.
You will be able to chat and ask questions, as this is Live!!!!
There are no refunds for any of the components of this class–pattern or class fee for any reason.