My original love is garment sewing. I started sewing in 4-H. In fact, this time of year always reminds me of crunch time. We were always hurrying to get our fair items done. We would sew all winter long, but it never failed. As soon as it was getting close to fair time there was a flurry of sewing. I still love to go through the 4-H buildings at the Wisconsin State Fair. I belonged to a fairly large 4-H club in an urban/rural setting. There were a lot of applicants because we were a county with a very large population. There was a lot of competition.
I don't know if there was a limit to the number of blue ribbons that could be handed out, but you had to make something pretty special to get a blue ribbon. In fact, I didn't receive my first blue ribbon until I was a senior in high school. It wasn't that I was a sloppy sewist, it was just that there was a lot of competition. I was an ok sewist. Those judges were picky!
Did that improve me along the way? I suppose it did, but when I teach young people to quilt, I am very careful to prevent discouraging them. I don't offer false praise, but I also don't want to deter them from their experimental side either.
Here's the skirt that I made this week. It's a great pattern. I wasn't completely in agreement with how the seams were finished off. That little 4-H self came out. I turned the seam allowances under and sewed them down similar to a french seam, but it wasn't a flat-felled seam.
All in all, it's a great pattern. What I loved about it was that it fit so beautifully. Some skirts can be too full in the waist, or too full in the skirt. This one was just perfect all over. It's from "SewDIY". I really love that it's a downloadable PDF. You have to come in to the shop and pick up a free card for it, then follow the instructions to get the downloadable. That way, you can keep it forever, print it out as many times as you like, and only in the size that you want.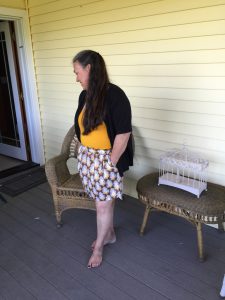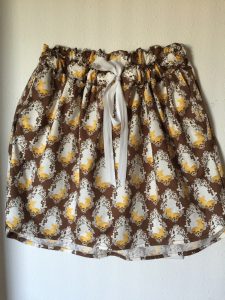 I'm going to make another one, and then make one for each of my daughters. I think they will love it too.