I love the book "Pat the Bunny". It's a toddler book. Little kids and babies love texture. You often see them crawl over to something and scratch with their little fingers to feel the surface. Or, when you're holding them, they rub their little fingers on surfaces to get the feel and the comfort. There is definitely something about growing their little brain cells that is involved with tactile sensations.
I recently made a quilt with texture. It's sort of a "relief" quilt. It's a panel by Gingiber for Moda Fabrics. I added Shannon Luxe Cuddle to parts of the animals. We have also kitted them up so that you only have to buy as much Cuddle as you would need.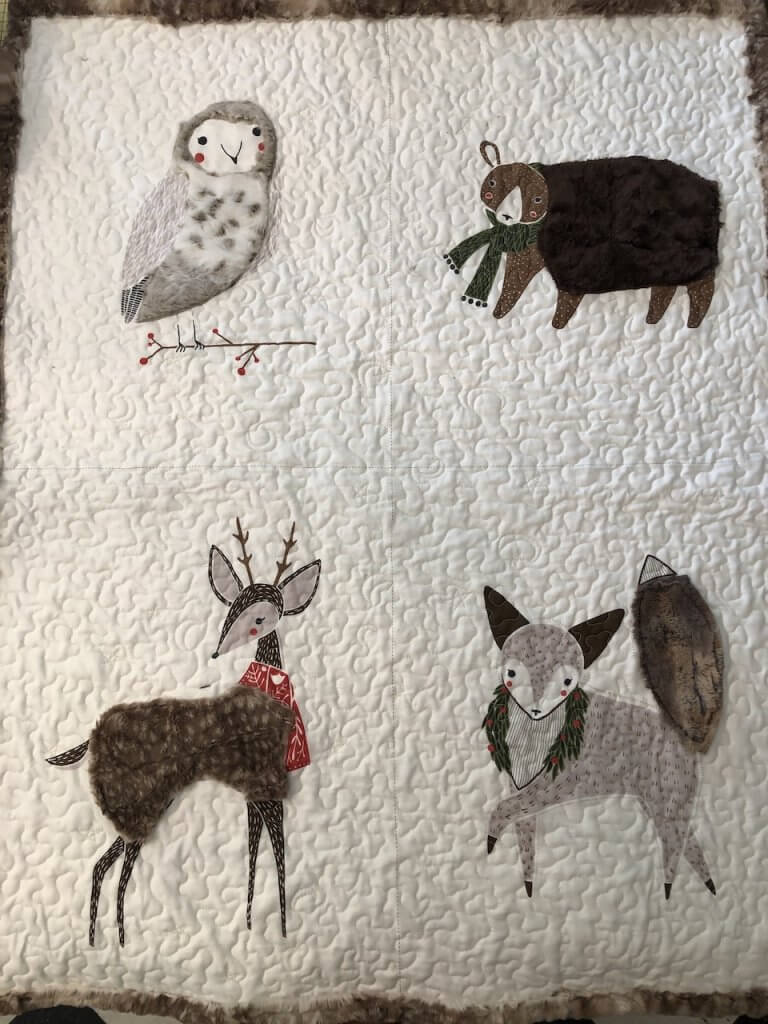 So, all you have to do is either come into the shop or shop online and purchase the panel. It's by Gingiber for Moda Fabrics. https://www.etsy.com/listing/701284725/merriment-large-animal-panel-by-gingiber?ga_search_query=gingiber&ref=shop_items_search_10
Above is the link to the panel. Then, hop over to the site to find the kit, if that's what you would like! Or, you can let us know that you want the kit by contacting us through this site. We prefer to see your smiling face in the shop, but, we know the convenience of shopping online.
All you need to do is trace the animals onto interfacing. Trace the section of the body that you want to place the luxe cuddle over. If the body piece that you're tracing is not symmetric remember to keep the pattern piece going in the right direction when you cut it out or trace it.
After cutting the Cuddle shake it out vigorously outside. Get all the Cuddle fluff off of it.
Make certain to place a piece of interfacing on the wrong side of the fabric behind the animal to stabilize the fabric.
I used a regular stitch to apply the Cuddle. Pin the piece down very well, and change your stitch length to a longer stitch such as a 4 (on a Bernina). You can also use a zig zag stitch but there is no need as Cuddle won't ravel. Use a walking foot.
Just lay the piece onto the portion of the animal that you want it on, and stitch around it.
I also have a binding made from Cuddle on this quilt. There is a great video on the Shannon Fabrics website that talks all about putting a Cuddle binding onto a quilt.
Not every quilt would look good with a Cuddle binding, but there are certain ones that are perfect for it. This is one of them!