I went to Colorado last month. We went to Colorado Springs. While I was there I wanted to get cowboy boots. When I looked at the prices I decided that I didn't really need them, but my granddaughter did. After all, who's looking at me anyway? Well, I bought her the prettiest little red cowgirl boots ever. She's 3. She is in less than the 20th percentile for size, weight, height, you name it. So, she's tiny. This is germane to the story.
The cowgirl boots fit her well. They were at our house visiting, and she wanted to wear them to bed. They were a hit. She loved them. What every sewing grandma would say next is "You need a cowgirl dress to wear with those boots", right? So I proceeded to bring the fabric home from the shop that had little pink cowgirl boots on it. I downloaded a PDF pattern, which I paid for (it wasn't free–that's also germane to the story).
I have been sewing for 40 years. I have been garment sewing for 40 years. I consider myself to be an expert. Well, maybe not Nancy Zieman expert, but expert just below her. I can sew anything.
My son-in-law walked into the kitchen and said "Didn't you just say about an hour ago that you were making her a cowgirl dress?" I responded "Yeah, so." He said "How did you instantly produce fabric with cowgirl boots? Did you just happen to have that?" My daughter and I just laughed. She said "You haven't a clue, do you?"
So, I laid out the fabric and started. Stella was so excited. Here she is in her pajamas. She had just gotten up, and had her boots on already. Needless to say, I didn't look much better. I had just gotten up too.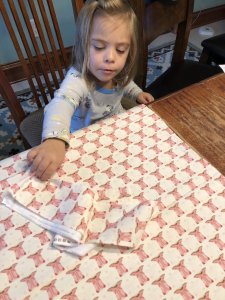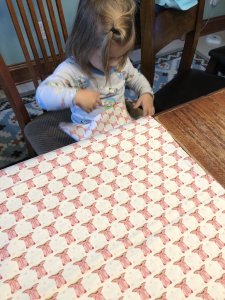 So, I laid out the pattern after measuring her and determining that I needed to make the size 3.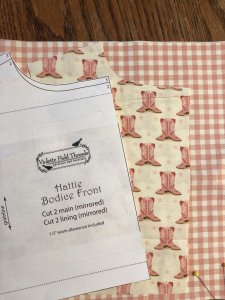 I thought, wow. This is a pattern designer after my own heart. The bodice was to be lined. I chose this pink gingham to line it with. I love linings. Often times when something isn't lined, I will choose to line it instead of using facings. So. Much. Neater.
I had met this young gal at an open house at Checker Distributers years ago, and it was her pattern I had purchased. I had sewn with one of her patterns once before. It was an open sundress, that just was shaped like a bell, and it unbuttoned at the top. Super simple.
I followed the directions on this new pattern to a T. I had made other dresses like this, so it wasn't hard. I could anticipate each step, and all was well. This is how it looked.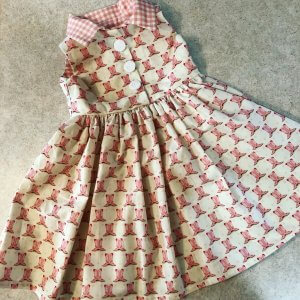 I laid the buttons on the bodice without sewing them to see how it would look. By now my daughter and family had left to go home. I was to follow in a couple of days. I would go to her house and sew her drapes, but I wanted to bring Stella her cowgirl dress. She was so excited.
When we tried to put the dress on Stella, she couldn't get it over her shoulders. You know, when I was sewing it, I had this strange feeling that the high waistline and bodice seemed small. But, it was a size 3. Stella's pretty little, and it wouldn't go over her shoulders.
So, I said that I would take it home and fix it. She was so sad. So I thought long and hard about the best way to fix it. A zipper up the back? Well, the collar was all one piece, and the bodice was lined. It would be pretty complicated. There wasn't a center back seam. I could put a zipper in the side seam, with part of it in the bodice and part in the skirt. That was a really good possibility. But, I opted for a placket in the front. A placket is simply a finished way to complete an opening or a slit cut into fabric. I ripped out a section of the waistline right in the front, and released the bodice in that spot. The buttonholes needed to overlap the side with the buttons, obviously. So the placket would have to lay that way. I cut the slit in the front center. I sewed a 2 inch strip of fabric right side to the wrong side of the skirt. I then brought it around to the front and turned the edges under and sewed it. That worked. Then I joined the bodice to the skirt again. It wasn't perfect. It would have been much better if I could have tucked the placket up into the bodice, but at this point that would have been too difficult. There was no way to turn the lining of the bodice up and hand stitch it. I did my best. Now at least she can wear it.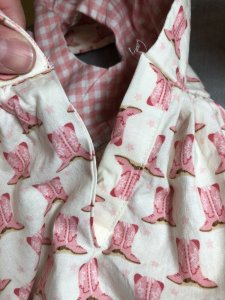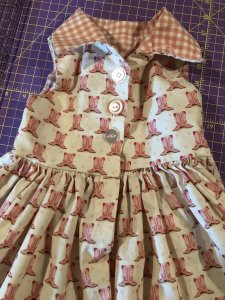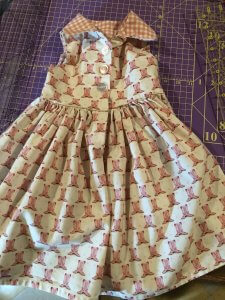 Like I said, it's not perfect, but she will love and it and she will be excited to wear it. She hasn't stopped asking for it.
I'm not sure that I will use this pattern again. I mean, theoretically I could build the placket in and then I could construct the bodice the way that it should be if the dress was to carry a placket. I did leave a review on the pattern.
You know, I can't help but think that somehow, my generation is to blame for some of this. These young designers are just throwing patterns out there and just fudging it as they go along. I have seen some bag patterns by designers that have thousands of followers on Instagram, and yet, their patterns are really poorly thought out and constructed. It's like they made it up as they went along—because they did. We kind of left them in a lurch. We didn't lobby for proper sewing classes in schools. We didn't invite them into our guilds. We kind of let them flounder. I wish we could have been more supportive of this next group of sewists.
I wonder what Nancy Zieman would say???