We are starting something new this summer. In addition to Row by Row, we are doing the "Dogs of Summer". Come in to the Bungalow and ask for the free pattern for the dog that is being featured for that week.
Here's the dog that will be featured this week: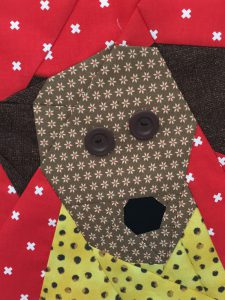 Her name is Daisy. I am not sure but I think she's a shelter dog. There are so many things that you can do with Daisy. Reduce the pattern and use her as a pocket on a garment. Make a pillow with her sweet face. Make a quilt or placemats for a summer tablescape. I can see her in all different colors in a fun quilt or picnic blanket. Stay tuned for next week's dog.