I love making these shades. They are so easy. What could be better than finding a piece of fabric that you just adore, and having it hang beautifully where you can see it every day? I love to use quilting fabric in more ways than just quilting. There are so many uses for beautiful fabrics.
The shades are so easy to make, but here are a few pointers:
Be sure and use a very sharp saw when cutting the cardboard tube to the width of your window.
If the mechanism seems to "slip" when you are pulling it up or down, it's possible that you stripped some of the cardboard when cutting it. If that happens, then a very simple remedy can be applied, and it works like a charm. Simply put a small 1/2 inch piece of foam 2 sided tape on the inside lumen near the open end, and then push the end piece onto the cardboard tube. This remedies this every time.
It helps to have 2 people present when measuring the space between your brackets. One person should hold the end clutch device into the brackets, and the other should measure between. This will insure that you will cut the correct width for your window.
So there's the infinite wisdom. I will soon be scheduling a shade make-it demo day. So come on in and check out all the beautiful fabrics that you would like to have hanging in your window. Here's the latest shade. Isn't it fun?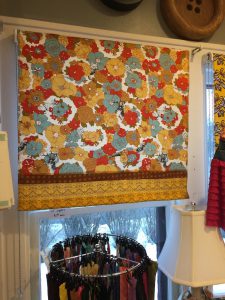 The fabric that I used is from Moda, Urban Chicks, called "Nomad". The trim is from Parson Gray and Joel Dewberry. It blends so well, I just love it. It would be great for a man-cave because it wouldn't be so offensive to a woman that it would be hard to sit and look at it like some male inspired fabrics can be. There are woodland animals on it, yet it's gentle. The floral pattern isn't so feminine that a man wouldn't mind it in his space. Besides, what has he got to say about it anyway! Ha Ha!