So, everyone knows how much I love tablescaping. It's hard to make dinner every night. You get tired of trying to come up with something to make. Often times you feel under appreciated. So why not do something for yourself? Make the table a delight to look at. You will be amazed at how good it feels to eat at a table that has been decked out, even if it's some little added touch like new placemats. Table runners do the same thing. You can clean up the whole kitchen, but if you add a table runner, it's a little gift to yourself.
So, here's my little gift to you. I am going to show you how to make the simplest, fasted and cutest placemats ever. There's no binding to do, so it goes super fast. It looks though, like you slaved forever. Here it goes!
Materials:
1 yard main fabric
1 yard backing fabric
large batting scraps
adhesive spray
rotary cutter
quilting ruler
quilting mat
Cut:
From Main Fabric 4 rectangles 14″ x 17″
From Backing fabric 4 rectangles 17″ x 20″
Using the basting spray on the batting, spray an area about the same size as the main fabric. Lay the main fabric onto the battingover the area sprayed and smooth. Using the rotary cutter and ruler, cut around the rectangle.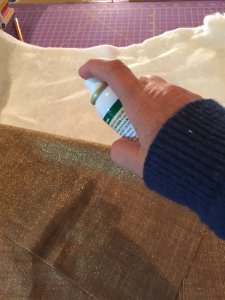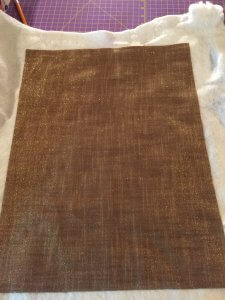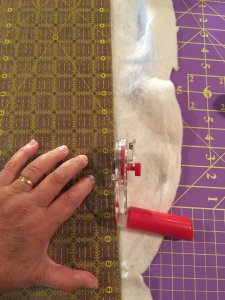 Mark the wrong side of the backing fabric by measuring 1 1/2″ in from all edges and drawing a line.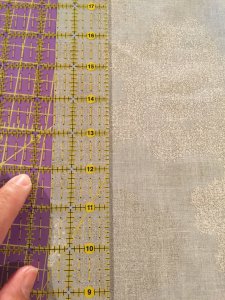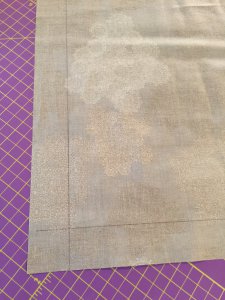 The lines will intersect in the corners. Find the 45 degree angle line on the quilting ruler.
Lay the 45 degree angle line along the line that was drawn.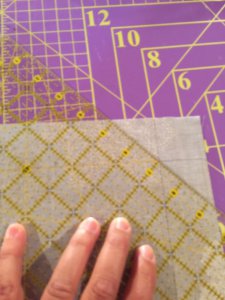 Draw a line along the edge of the ruler, across where the lines intersect.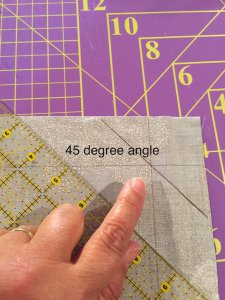 Do this on all 4 corners of the rectangle.
Spray the back of the batting/main fabric combination with the temporary fabric adhesive. Lay the sprayed side down onto the wrong side of the backing fabric, inside of the lines.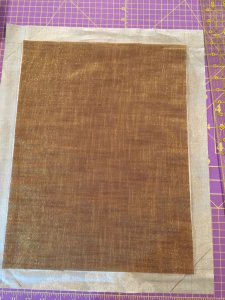 Fold the corners right sides together, forming a point, and aligning the 45 degree angle lines.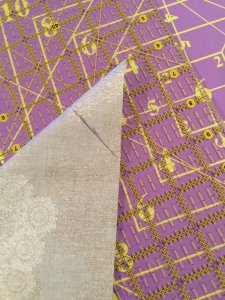 In the photo above, the fabric and batting were peeled back to expose the line drawn.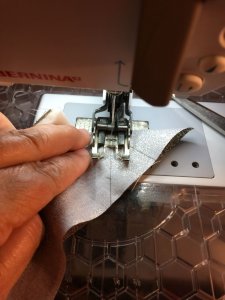 Stitch along that line. Do this for all 4 corners. Trim the corners triangles off. Turn the corners in so that the right side is showing.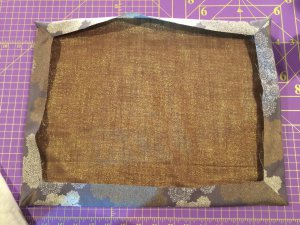 Press flat. Pin the edges down. Turn the edges under 1/4 inch and top stitch.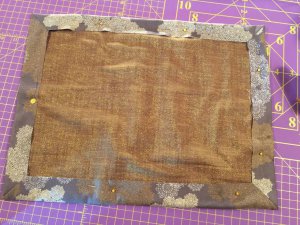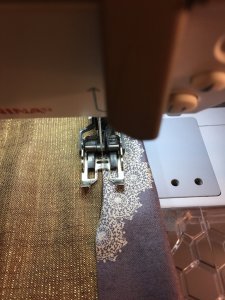 You may use a wooden skewer to help turn the edges under inside the corners. Stitch close to the edges.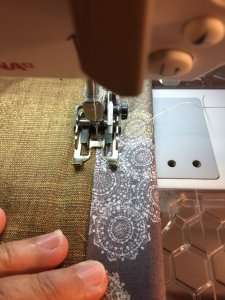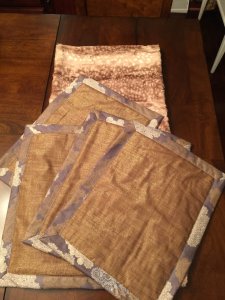 These are just the best, and so fast! You can quilt the center if you want, but why would you? They are stable with the sewing around the edges. These can be done so quickly. Well under 2 hours!