How many of us are used to seeing scrap quilts with only small scale ditsy type prints? We all are. In fact, we've seen so many of these that it's sometimes hard to imagine where we are going with some of the large scale prints that we have acquired.
There was a time in quilting history, recent quilting history, when suddenly we were faced with beautiful, large scale, colorful fabrics. We were so used to looking at the little ditsy, Civil War reproductions or the 30s reproductions. There were also my favorites, the novelties and brights. But, the modern quilt movement hadn't settled in just yet, or at all.
Some of the brave pioneers in the large scale print industry were Amy Butler (shown above), Kaffe Fassett, and the protege's of Kaffe Fassett such as Philip Jacobs and Brandon Mably.
Heather Bailey deserves mention as well, and many of the Alexander Henry prints. I have to add that Alexander Henry was always bold and edgy, and there was a cross-section of quirky quilters that secretly devoured Alexander Henry for lunch.
These prints made us stop in our tracks. They weren't gradually introduced. It's not like with the passing of each week the print scale became progressively larger, but BANG! All of a sudden there they were.
Alexander Henry was always pushing the envelope. This fabric company was not for the faint of heart quilter. Big and bold, many of the people who used Alexander Henry had personalities to match.
The quilters that I meet that tend to like to experiment have a different side to their personalities. They have a side to them that likes a good challenge. They have a side to them that is not afraid to try something totally out of their comfort zone. I realize that I am having a cliche' fest here, but bare with me for a while. There is a good point in here, coming up.
So, now you've got a collection of these fabrics. Maybe you've only collected them and have left them on your shelf, hoarding them like pieces of treasured art. They are treasured art. The fabrics shown above are not new, they've been around for a while. There is a time factor involved here.
Once you purchase a piece of fabric, there is usually a lag period between purchase date and use date.
In my two books about scrap quilting, I discuss the need to use up odd shaped scraps, and scraps that have larger scale and are a bit more quirky than some of your other fabrics. They are a particular dilemma. Because most of the books on the market take scrap quilting from the perspective of cutting new pieces of fabric into strips, you are left with few options for these odd shaped scraps. And, many of these books also use a very safe approach to scrap quilting, using only pre-cuts or fabrics that are carefully coordinated from a particular line of fabric.  That is where my books come in.
I have done blog posts and presentations a million times over discussing this particular quilting dilemma. But, let's turn this back on it's head. Now, not only do you have scraps and older pieces once used for other projects building up, but most of the new fabrics that you want to use are coming out in large scale format. You may not have used the large scale prints 5 years ago, but now that is most of what you see coming on the market.  You may be a bit confused on how to place these fabrics and what to place them with. Enter Tula Pink, who over the last 7 years or so has become a household word. Ditsy, small prints? I think not! And, you want to use these prints. And, use them you do. Now you really have large scale leftovers.
How to make them work together? One of my favorite quilts in my second book, Rainbow Quilts for Scrap Lovers is the perfect answer. Not only can you use up your scraps, but you can use newer fabrics that are large and in charge.
This book has opportunities galore to use up large scale prints. My first book did too. And, there's an entire chapter devoted to this subject in both books.
This quilt is called "Blended Hexagons". It is the perfect quilt for any scale of print. Mix small with large, use all large or use all small scale prints.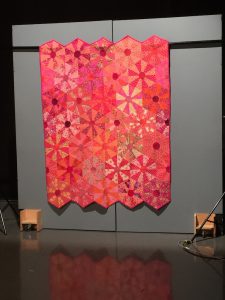 It looks so complicated, but would you believe that all of these pieces are made from simple squares? I bet that you would not, but they are. I took a monochromatic approach with this particular quilt, but many of the quilters that are making it now are using many different color schemes in this quilt. You really need to check this one out. Go get the book "Rainbow Quilts for Scrap Lovers". You'll be addicted to cutting this quilt out.
Look at this quilt being arranged by Barb Bending. This quilt is amazing. Looks like a true flower garden. Barb is going crazy cutting up her fabrics that she had in her stash for a long time. That's because it's so easy to do this quilt and the cutting technique is amazing! You'll rip through your scraps in no time at all!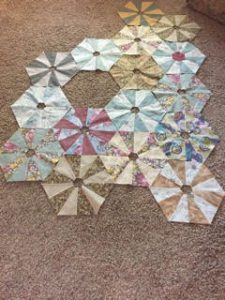 She's having a great time and so will you when you use this pattern.