Have you ever wanted to begin sewing garments but had no where to turn? The schools have long since stopped teaching how to sew garments.
I am going to give you lessons with easy tutorials that are free. You will be able to understand how to cut out a pattern and make a garment after watching these tutorials. This tutorial is part one.
You will have to decide what you want to sew. I would suggest something simple. Start with a pattern that says that it's beginner friendly. Let's first talk about fabric.
Fabrics come in so many types that it's hard for a beginner to understand what type is what. Well, basically fabrics can be classified in 2 ways. They are either a knit or a weave. There are many more classifications that we can split hairs over, but for now let's suffice it to say that there are 2 types.
First we will talk about weaves. Weaves are exactly what they say–they are fabrics that are woven from some type of fiber be it cotton, linen, silk or a blend of these and many other fibers. A weave has fibers or threads that run in 2 directions. They are called the warp and the weft. *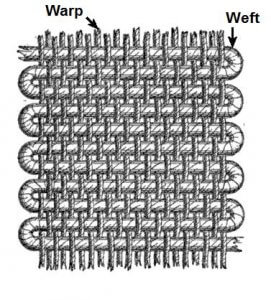 You can see that there is a weave. Woven fabric has what is called a selvedge edge. There are 2 selvedge edges. These edges of the fabric are the ones that are tightly woven, and they are parallel to each other. There is one on each edge of the fabric to keep the fabric from unraveling. The weave is very tight and runs along the weft. So, the weft, that you see above that is on both sides is the selvedge edge.
To clarify this a bit more, here is a piece of fabric. When it is in the shop it is on a bolt, and frequently folded in half. Some are on rolls, and not folded in half. In essence, this is how it looks when it is opened out and unfolded.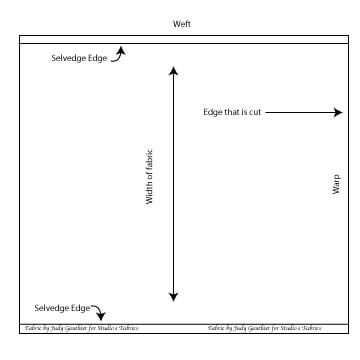 The selvedge edges are the straight edge, as they have been woven tightly at the factory. The edges that are perpendicular are the cut edges of the fabric. When the fabric is measured and the customer indicates how much they want, it is measured along the selvedge edge, and cut along the warp. This is considered the "width of fabric" as you can see from the middle arrow. Cotton sheeting usually comes as a width of 42 inches or somewhere in that range. Sometimes it's 40 inches, sometimes it's 44 inches. The general nomenclature that you will see on pattern for both quilting and sewing is that they will refer to this width of fabric as 44"/45" fabric, even though it is rarely that exact width. This is a holdover from some time ago.
On the back of a pattern you will see instructions for how much fabric you need for a particular garment. It will give it to you in measurements that we discussed, above. It will tell you how many yards you need for a garment. The yardage is measured along the selvedge edge.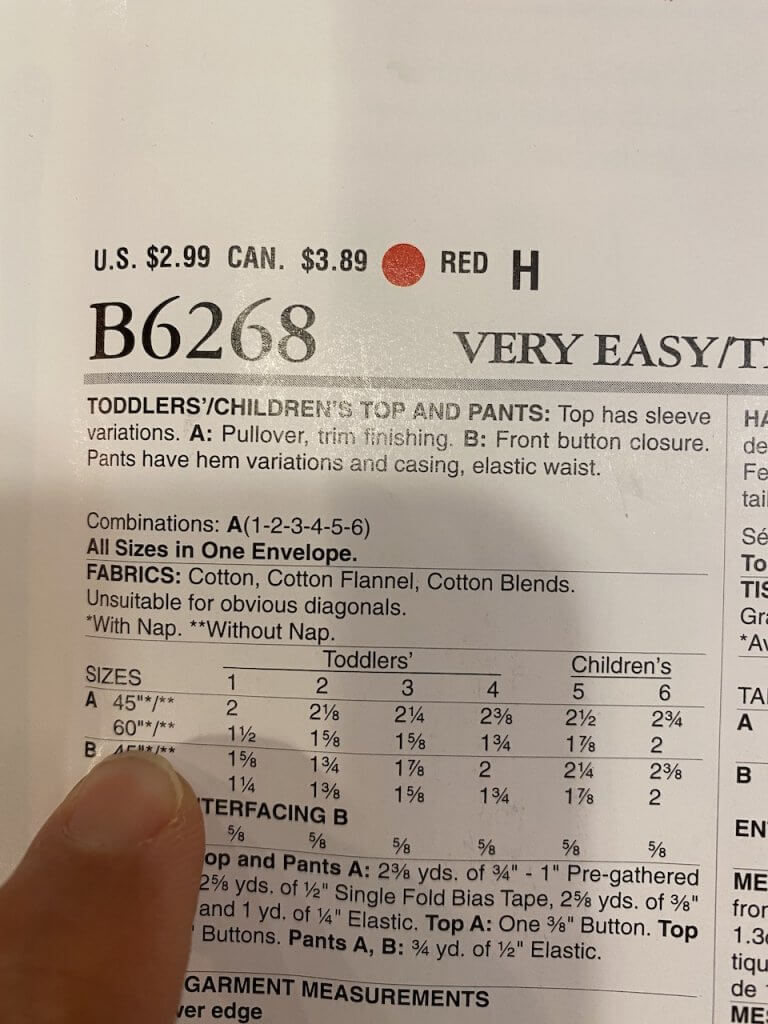 But, you see, there is a 60" listing too, right? What does that mean? Well, fabrics also come in 60 inch wide pieces. However, those are usually knits or upholstery weight.
Knits look like they have been knitted, and are stretchy to some extent. Most knits when you look closely at the stitches look like this: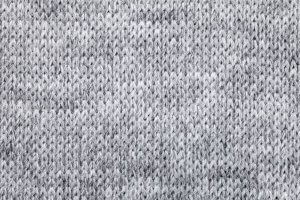 So, these are required when a pattern says that it's for stretch knits only. A knit is required when you need to have stretch so that the garment will fit properly, or because it's a garment that gets pulled over the head or up over the hips. Knits are fantastic for so many things, and can be used for garments that work with wovens. However, wovens cannot be used where a knit is needed. If you make a garment that requires a stretch knit with a woven, it won't fit or it won't be able to be pulled up over certain body parts.
Knits are usually 60 inches wide, or slightly less than 60 inches. Sometimes they're 54, or 58 inches wide. They all have a selvedge on 2 sides just like a woven. But there are 60 inches between the two selvedges. Some knits are very stretchy, and some not so stretchy. It's important to know how much stretch is needed for a pattern. If it's a pattern that has closures such as buttons or a zipper, most likely it doesn't need as much stretch as a pattern that needs to be pulled over the head or over the hips.
Can wovens ever be stretchy? Why yes, they can. But they can never be as stretchy as a knit. A woven fabric is always stretchier along the warp then it is along the weft. This can and should be taken into consideration when you are making something that you need to control the stretch.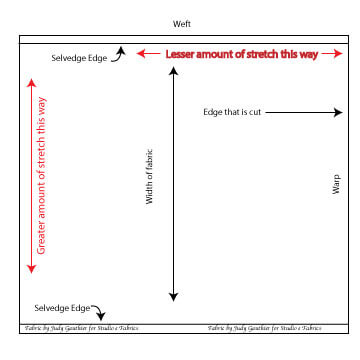 A piece of woven fabric can have lots of stretch if you cut it across the bias. What is the bias? The bias is the diagonal of the fabric. If you drew a diagonal line from corner to corner, at a 45 degree angle you would "on the bias".
When you cut on the bias, you are crossing both the warp and the weft simultaneously. This gives the fabric a ton of stretch. This is sometimes done purposely like with bias bindings, and sometimes if you want a garment to drape a certain way. Often times, it is not desirable as you don't want to have something get stretched out.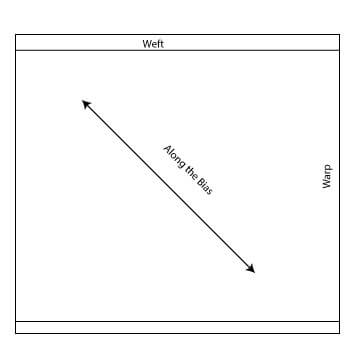 In my next entry, we will talk about the fun part–buying the fabric.