Quilt Market in Houston was a blast. I didn't stay for more than one full day of market itself, but I did get to participate in Schoolhouse the day before market, and a Meet and Greet Sponsored by C & T Publishing and EE Schenck. It was a good way for us C & T Authors to get to meet the public and other people in the industry. It was really a good time.
While I was there I did an in booth demo for C & T Publishing for my book and templates. We drew quite a crowd. I was afraid that my Schoolhouse presentation would not be well attended since it was at the end of the day, but there was a full room with people standing at the back! Wow. I didn't expect that.
All in all, it was fun. I even ordered some new fabric for the shop. I tend to do most of my ordering outside of market. It's easy to get caught up in the glitz and glamour and overbuy. As most of you know, we have a very high turnover of fabric in our shop, so we are always buying new and up to date. There were some fabulous finds though, to be sure.
I met up with Becky Goldsmith. She is a truly fun and energetic person. I have been a fan for a really long time. She was looking for something to promote on her website as good stocking stuffers. So she is going to promote my maker tape and the templates for my book.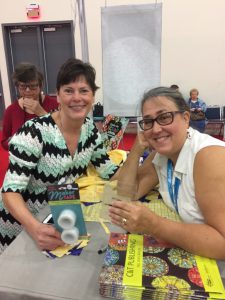 Of course there's so much to see and do at Market. I can't believe that I only have a couple of pictures. Well, that just goes to show how busy I was! It's like being on vacation. If you have the time to take a lot of pictures, it's possible that you aren't having a ton  of fun. I was running around like a chicken!
Another exciting thing was meeting the owner of EZ Fabrics. This company makes minky like fabrics. They teamed up with Michael Miller to put some of the Michael Miller prints onto the soft fleecy fabric. These are the ones that I ordered. They're so cute I can hardly stand it. This kind of fabric sells very well in our shop. But hey, when it's -40 degrees F., you've got to stay warm!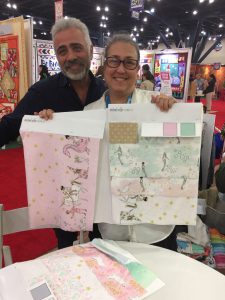 There is a lot of fabric coming from Shannon Cuddle as well. I ordered new double gauzes, and a ton of cuddle.
Can't wait to see everyone at Blitzen on Saturday!