Okay. This has so been my soapbox for a while now. People are hesitant to sew with other textures, ones other than cotton. But remember cotton comes in many textures too. There are cotton knits, even cotton velveteens.
I love to embark on the adventure of sewing with other fibers. Silk is my personal fav, but has some limitations, especially cost. But, you only need a little in certain applications. It's not like I am going to make drapes from 100% silk.
Within the last year, we started carrying the faux suede by Shannon Fabrics. I tell you this is just the nicest stuff. It works so well for bags, slippers, rugs, upholstery and on and on. A lot of people have tried it in bags and have loved it. It's 100% polyester, and so it is very strong. It needles really well, just like butter. I have quilted over it and it is wonderfully soft.
I made this rug using it yesterday. I appliqued cuddle on it too. This will be very soft on someone's tootsies. Here it is: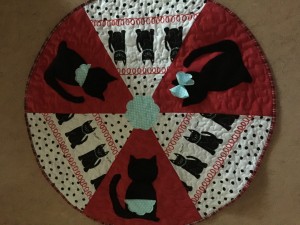 It's just a little round rug. The pattern is from the Bungalow. All you need to do is put non skid rug backing on the back and you're good to go. The cuddle is strong, the faux suede is strong, so it works well for a rug. I wouldn't put it by the back door and put shoes on it, but it's great for a bathroom or bedroom.